Priorities Quotes You Must Know.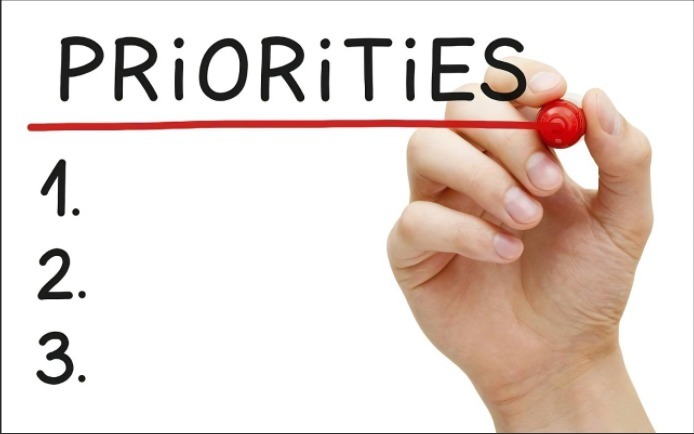 The skill of setting priorities right is one of the most consistent thing you'd read from every success story from famous, popular and wealthy people. The importance of prioritizing relationships, tasks, activities and jobs can never be overemphasized. There's no better way to start learning the importance of priorities than to start with the huge collection of priorities quotes that we have put together for you.
The quotes about priorities and setting priorities right would highlight how priorities makes things easier to handle and get over than we when just take on things as they come. If you want to grow, become successful or even manage your time and life better, you need to read and learn from these quotes about priorities written by successful people through put history. The name of the originator of each quote is written alongside their quotes so you could learn from them.
Priority Quotes You Should Learn From
The first step to success is knowing your priorities. – Aspesh
The key is not to prioritize what's on your schedule, but to schedule your priorities. – Stephen Covey
The mark of a great man is one who knows when to set aside the important things in order to accomplish the vital ones. – Brandon Sanderson
It is not daily increase but daily decrease, hack away the unessential. – Bruce Lee
Lack of time is actually lack of priorities. – Timothy Ferris
No one is going to hand you an organizational chart. You have to hand it to yourself. – Robert Genn
Do the duty which lies nearest to you. The second duty will then become clearer. – Thomas Carlyle
The things which are most important don't always scream the loudest. – Bob Hawke
Wise are those who learn that the bottom line doesn't always have to be their top priority. – William Arthur Ward
Not everything that can be counted counts, and not everything that counts can be counted. – Albert Einstein
Whatever is at the center of our life will be the source of our security, guidance, wisdom, and power. – Stephen Covey

It's a matter of priorities. Do you want to win, or would you like to sleep? Do you want to win, or would you like to take a day off? – David Boies

If you just make every effort to do the right thing, you'll come out ok. It comes down to priorities and making good decisions. – Archie Manning

I have a more developed sense of my priorities. Life has so much more meaning now. – Mariska Hargitay
To succeed today, you have to set priorities, decide what you stand for. – Lee Iacocca
Sometimes when you're overwhelmed by a situation, when you're in the darkest of darkness, that's when your priorities are reordered. – Phoebe Snow
We live in a changing world, but we need to be reminded that the important things have not changed, and the important things will not change if we keep our priorities in proper order. – S. Truett Cathy
Our life is the sum total of all the decisions we make every day, and those decisions are determined by our priorities. – Myles Munroe
I'm starting to judge success by the time I have for myself, the time I spend with family and friends. My priorities aren't amending – they're shifting. – Brendan Fraser
Life is about doing things that matter first, not last. – Richie Norton
Let us reflect on what is truly of value in life, what gives meaning to our lives, and set our priorities on the basis of that. – Dalai Lama
Know what matters most to you and be unwilling to compromise those priorities at almost any price. – Frank Sonnenberg
Like it or not, the world evolves, priorities change and so do you. – Marilu Henner
Respect was one thing. Survival was another. It was important that I kept my priorities in the right order. – Tahir Shah
Think of your priorities not in terms of what activities you do, but when you do them. Timing is everything. – Dan Millman
Times of transition are strenuous, but I love them. They are an opportunity to purge, rethink, priorities, and be intentional about new habits. We can make our new normal any way we want. – Kristin Armstrong
Be ambitious. Get things done. Keep your priorities straight, your mind right, and your head up. – Anonymous
Life is as simple as these three questions: What do I want? Why do I want it? And, how will I achieve it? – Shannon L. Alder
Good things happen when you set your priorities straight. – Scott Caan
Things which matter most must never be at the mercy of things which matter least. – Johann Wolfgang von Goethe
I learned that we can do anything, but we can't do everything, at least not at the same time. So think of your priorities, not in terms of what activities you do, but when you do them. Timing is everything. – Dan Millman
Set aside time to plan how you will spend your time. Think about what's most important. Then do those things first. – Frank Bettger
Do not let what you cannot do interfere with what you can do. – John Wooden
Nobody's life is ever all balanced. It's a conscious decision to choose your priorities every day. – Elisabeth Hasselbeck
When you have too many top priorities, you effectively have no top priorities. – Stephen Covey
Whatever keeps you from reaching your goals today had better be important, it's costing you a day of your life. – Nido R. Qubein
Sometimes things in life happen that allow us to understand our priorities very clearly. Ultimately you can see those as gifts. – Mariska Hargitay
The problem with the world is that people are busy searching for keys but don't know the locks that they would open. – Abhaidev
If it's a priority you'll find a way. If it isn't, you'll find an excuse. – Jim Rohn
There is no such thing as 'I do not have the time'. This is all just a matter of priorities. – Maciej Aniserowicz
There is no one busy in this world, it's always about priorities. You will always find time for the things you feel important. – Nishan Panwar
Getting to the top should be a priority, but being aware of the reason for getting there should be the focus. – Anonymous
The root of productivity is in personal priorities. Know what matters to you and why. – Melissa Steginus
Our greatest danger in life is in permitting the urgent things to crowd out the important. – Charles E. Hummel
Learn how to separate the majors and the minors. A lot of people don't do well simply because they major in minor things. – Jim Rohn
The greatest reflection of your priorities is your time. Whatever you say about what matters to you, the true test is where you place your time. – Nick Crocker
The reason most goals are not achieved is that we spend our time doing second things first. – Robert J. McKain
If you continually ask yourself, 'What's important now' then you won't waste time on the trivial. – Lou Holtz
You will never find time for anything. If you want time, you must make it. – Charles Bixton
There is never enough time to do everything, but there is always enough time to do the most important thing. – Brian Tracy
People think focus means saying yes to the thing you've got to focus on. But that's not what it means at all. It means saying no to the hundred other good ideas that there are. You have to pick carefully. – Steve Jobs
One-half of knowing what you want is knowing what you must give up before you get it. – Sidney Howard
When you know what's most important to you, making a decision is quite simple. – Anthony Robbins
Most of us spend too much time on what is urgent and not enough time on what is important. – Stephen Covey
A simple life is not seeing how little we can get by with – that's poverty – but how efficiently we can put first things first. When you're clear about your purpose and your priorities, you can painlessly discard whatever does not support these, whether it's clutter in your cabinets or commitments on your calendar. – Victoria Moran
Your decisions reveal your priorities. – Jeff Van Gundy
The mark of a great man is one who knows when to set aside the important things in order to accomplish the vital ones. ― 
I bet these amazing priorities quotes have somehow affected your perception of priorities and teach you the importance of putting the most important at the very top. Without a list capturing the most important things in one's life, then they're bound to focus on the least important. Do share these quotes with friends and family who need to learn to start prioritizing their lives better using the quotes about priorities.