Fun Facts About Willem Dafoe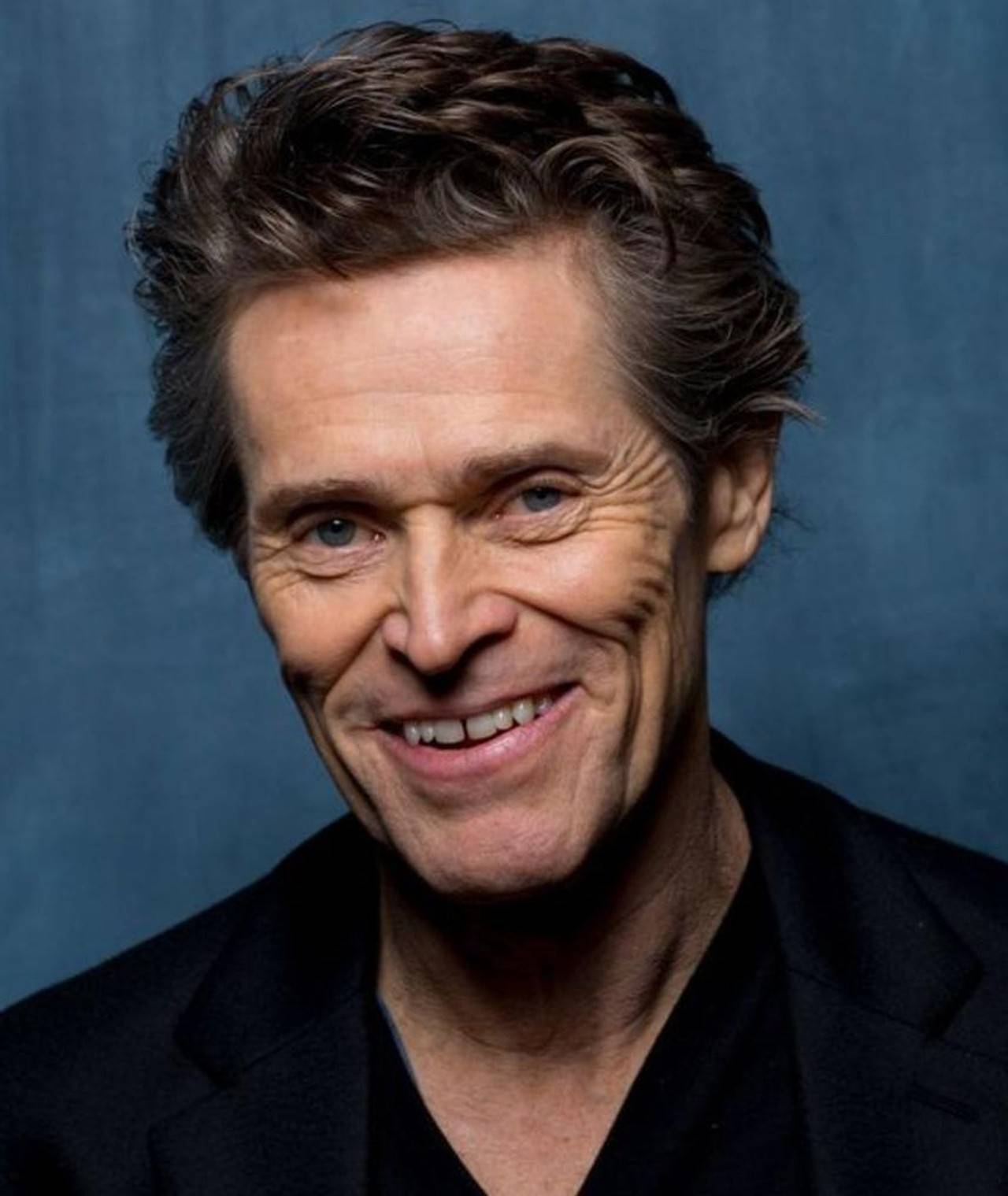 With well over 100 film appearances to his name, Willem Dafoe has truly earned his place in Hollywood Hall of Fame. A four-time Academy Award nominee, Dafoe has excelled in all kinds of movies, ranging from lighthearted romantic comedies, controversial horror movies to inspiring dramas. 
Here, we present some intriguing facts many Hollywood aficionados might not know about Willem Dafoe the Hollywood legend.
Fun Willem Dafoe Facts
Willem Dafoe's real first name is William. However, his friends in school pronounced it as Willem – and he stuck with it… Which makes sense, as he is part German, part Irish and part Scottish.
The Backstage Boy
Prior to becoming an actor, Willem Dafoe had spent time building sets for Theatre X in Milwaukee, Wisconsin.
His wealthy parents cut him off financially, following his decision to abandon a university degree for a career in Hollywood. Dafoe was born to two parents who worked in medicine. His father was a doctor, while his mother was a nurse. While all seven of Dafoe's siblings followed in their parents' footsteps by entering the medical field, Dafoe chose to be the proverbial black sheep.
Willem's parents weren't too happy about his decision to drop out of the University of Wisconsin, and refused to support him while he pursued an acting career.
He pretended he could speak fluent Dutch in order to get his first film role. Auditions for 1980's Heaven's Gate asked actors to prepare "one monologue in English and one in another language."
In order to bag a part in the film, Dafoe had his friend help to write out a Dutch speech phonetically, which he learned by heart. The gig was soon up though, when, at the audition, director Michael Cimino asked Dafoe to improvise some lines in Dutch.
Dafoe then confessed that he wasn't actually fluent in Dutch, but almost miraculously, still got the part.
Although Willem Dafoe has played some big characters in his time, including Jesus Christ and Vincent van Gogh, he has also voice-acted the homelier role of Clarence the polar bear. 
Dafoe made his debut as the Birds Eye mascot 12 years ago, gracing small screens across the UK for the brand's 2010 ad campaign.
In preparation for Platoon, Willlem and co-stars Charlie Sheen, Johnny Depp, and Forest Whitaker spent a month at a military-style boot camp, in a grueling training exercise. 
Later in 2012, Dafoe would reveal that, before filming on Platoon began, the principal cast members were taken out into the wilderness for 30 days by Vietnam veterans, led by Captain Dale Dye.
Reportedly, Captain Dye restricted their food and water consumption, and fired blanks at them to keep them from going to sleep. 
He went blind for three days while filming The Last Temptation of Christ. In taking on the massive role of Jesus Christ in Martin Scorsese's The Last Temptation of Christ, Mr. Dafoe wanted his eyes to look huge and otherworldly. To achieve this, he tried to dilate his pupils as much as possible by using eye drops.
What he didn't see coming, however (pun intended), was the dangerous effects of the bright Moroccan sunshine combining with his excessive use of the drops. In one scene, Dafoe was required to stare almost directly into the sun – which cost him his sight (albeit, thankfully only for a couple of days). 
Delirium in the Murky Waters
Dafoe once became delirious after drinking contaminated water on the set of Platoon. The Vietnam-based War film took Dafoe to the Philippines rainforest, where he came down with a serious illness after drinking dirty water from one of the rivers.
The locals warned the actors not to drink water from the river, as it would put them at risk of contracting malaria or cholera. But, being the rebel that he was, Dafoe decided the water looked clean enough to risk it, and so he filled his canteen, dropped a purification tablet in and drank.
As they moved upstream, however, they understood why they'd been warned, when they found a dead pig decomposing right in the middle of the river. We can only imagine what ran through Dafoe's mind.
Mr. Dafoe was first nominated for an Academy Award, for the Oscar winning movie "Platoon". His second Academy Award nomination came courtesy of the blockbuster movie, "Shadow of the Vampire". 
See these fun facts about vampires.
Willem was a strong contender for the role of The Joker in Tim Burton's 1989's Batman film . Screenwriter Sam Hamm suggested him for the role, after noticing physical similarities between the Joker's character and Mr. Dafoe. Sadly, however, his suggestion did not sail, and Jack Nicholson eventually got the role.
As Peter Parker's (aka Spiderman) arch-nemesis,  The Green Goblin, Mr. Dafoe performed – and filmed – his own daredevil stunts for 2002's blockbuster, Spider-Man.
In his determination to create a more authentic performance, Dafoe went to extra lengths to immerse himself in his rather infamous role, going as far as making the strange request for the crew to allow him perform his own stunts. 
This turned out excellently well. Mr. Dafoe was quite a natural – unlike many of the professional stuntmen – and even learned to handle the Goblin Glider after just 15 minutes.
The Golden Raspberry Awards (or Razzies) are perhaps every Hollywood Actor's nightmare, humbling the best of them by awarding them prizes for their worst performances.
Sylvester Stallone and Madonna have won the most Razzies so far, but Dafoe has certainly had his fair share of nominations.
In 1994, Dafoe was nominated for Worst Actor for his role in Body of Evidence. He lost out to Burt Reynolds, whose performance in Cop and a Half beat Dafoe to the prize. Just three years later, he was again nominated for Worst Supporting Actor in Speed 2: Cruise Control.
Dafoe has the second-highest number of on-screen fatalities, with over one third of his 100+ roles dying in movies. In total, Dafoe has died in 29 movies, two television shows, three video games, and a music video.
Even better, Dafoe has died in some truly spectacular ways. In Shadow of the Vampire, he disintegrates in the sunlight; and in The Last Temptation of Christ, he is crucified. Touche.
However, Dafoe still has got a long way to go if he wants to break the record set by Danny Trejo, who currently holds the record for the most on-screen deaths: a staggering 65.
He learned to paint like van Gogh for his role as the artist in At Eternity's Gate. To get into the mind of one of history's most famous painters, Dafoe read the anguished letters between van Gogh and his brother. Much of the film's dialogue was also drawn from and inspired by the correspondence between the two men.
A mark of incredible consistency, Willem Dafoe keeps a journal and has written in it almost every day for 40 years.
Dafoe once disclosed revealed that he has several self-authored books. In his words, "They're very practical. Not even reflective. Just reporting as an exercise to learn how to express myself".
Interestingly, Willem Dafoe is also the only actor to be Oscar-nominated for playing a vampire. In 2000, he starred as Schreck in E. Elias Merhinge's metafictional horror movie, Shadow of the Vampire – a movie in which he records another one of his trademark, iconic on-screen deaths.
And, despite the myriad of Hollywood vampire flicks, Dafoe's performance as Max Schreck was the first to ever receive an Oscar nomination.
Willem Dafoe Young
Below are some of the pictures of Willem Dafoe when he was young. Interestingly, the young Willem Dafoe didn't look so much different from what he actually looks like today and this has had many people requesting to see pictures of young Willem Dafoe and kinds of pictures of videos of when William Dafoe was young. We have attached these pictures of a Young Willem Dafoe for his fans to check out.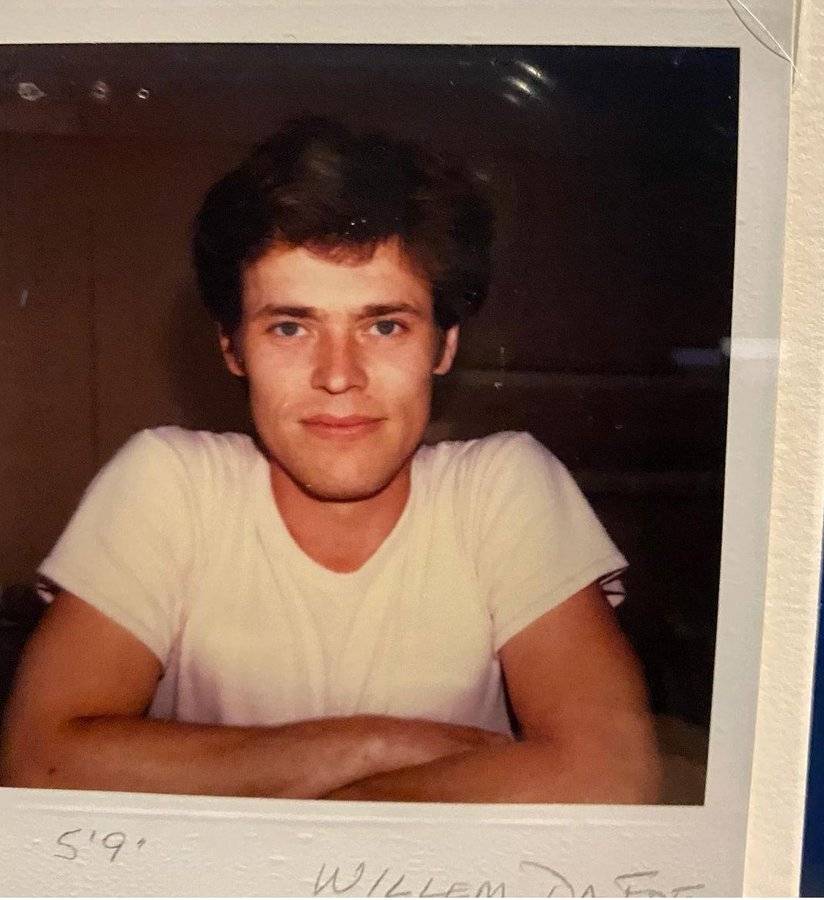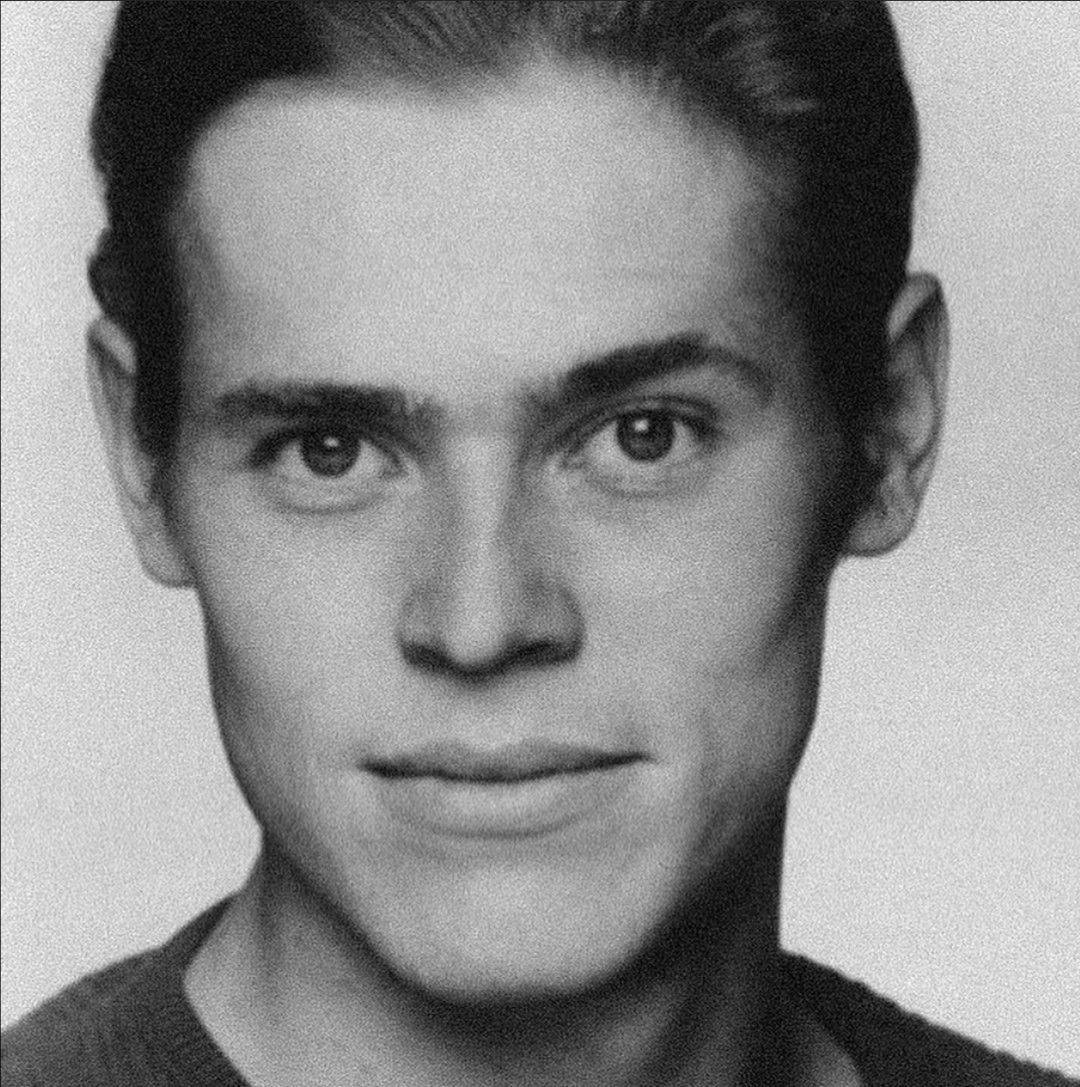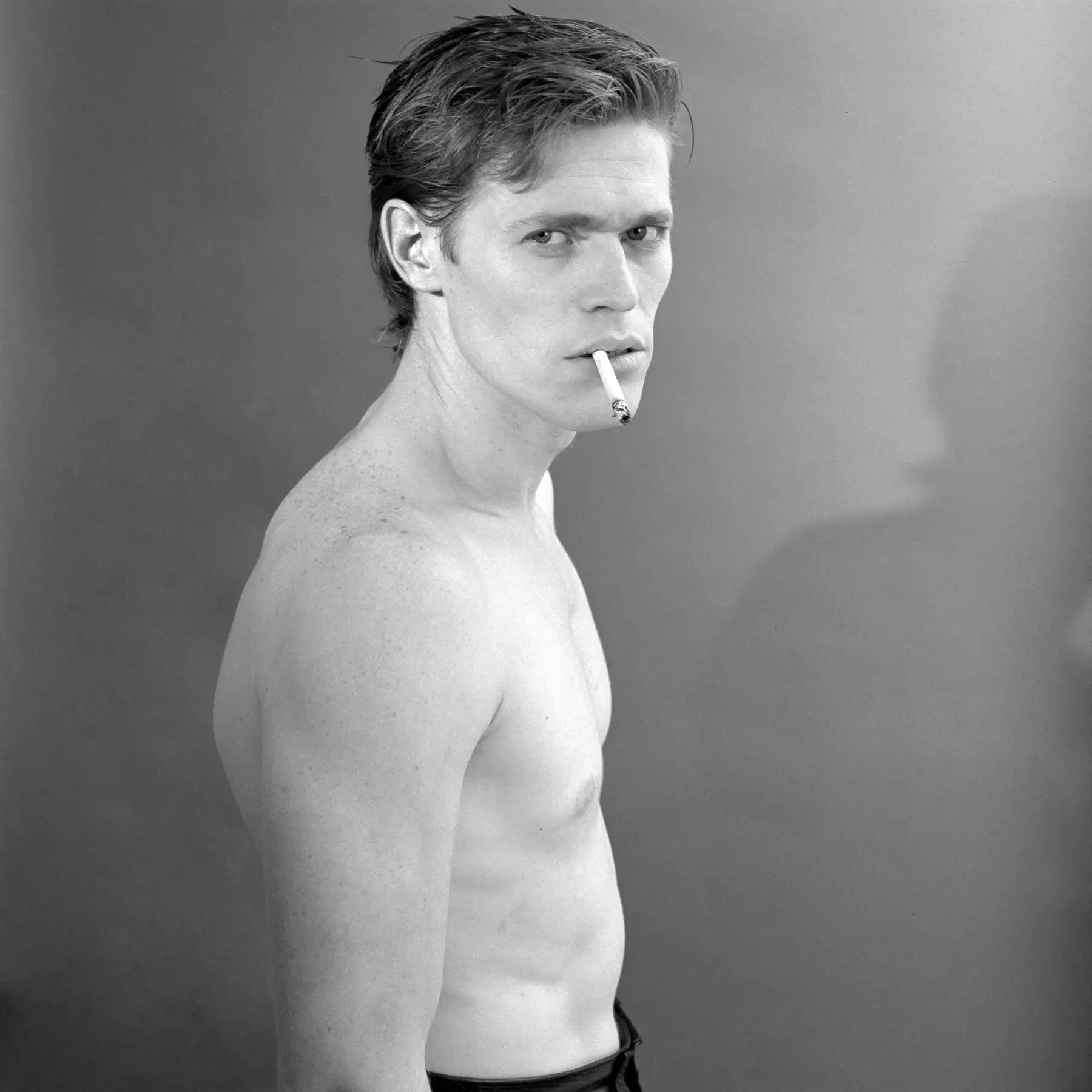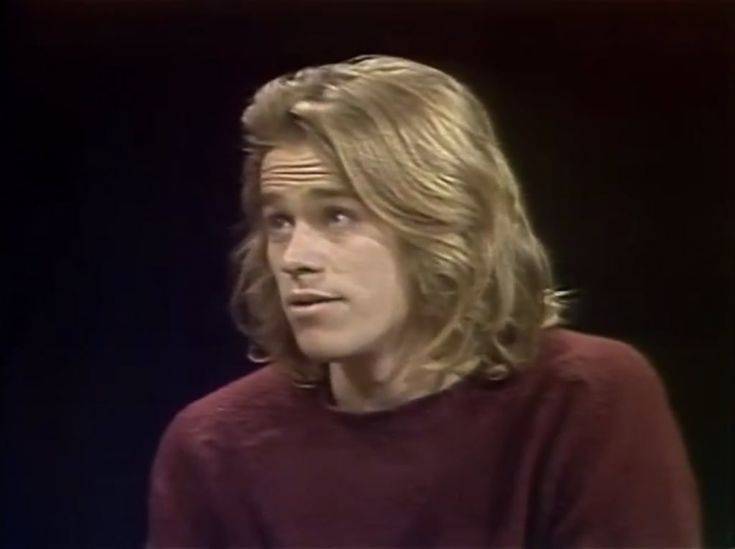 While the above list of facts about Willem Dafoe covers a lot of aspects about Willem Dafoe's life and career as an accomplished actor, there are still certain unknown facts and information about Willem Dafoe that lots of his fans and movie watchers are interested in knowing, they usually search the web and even our website for these informations. We have compiled these questions into a list of frequently asked questions about Willem Dafoe, these questions would be answered in the following section below.
Willem Dafoe FAQs
Why did Willem Dafoe change his name?
Willem Dafoe changed his name from William because his friends at school were always calling him Willem instead of William and the name stuck with him since then.
Yes, Willem Dafoe is vegan, he said he stopped eating Lobsters after one(a lobster) spoke to him.
What is Willem Dafoe's accent?
Willem Dafoe has a Wisconsin accent which is an accent people who live in and are from Wisconsin are typically known to have.
What is Willem Dafoe famous for?
Willem Dafoe is famous for being The Green Goblin in the 2002 movie Spider Man. He is also famous for playing various vampire roles in different movies.
Why is it Willem and not William?
It is Willem because friends were calling William Dafoe Willem, so the name stuck with him.
Who plays the Green Goblin in no way home?
Willem Dafoe played the Green Goblin in. No Way Home.
Is Willem Dafoe playing the Joker?
Yes, Willem Dafoe has been linked with several sources suggesting he will be playing The Joker.
Do share these Willem Dafoe facts with your family and friends who are huge fans of the Hollywood star, do they too can leanr something new about their favorite actor.