Fun Facts About Punjabi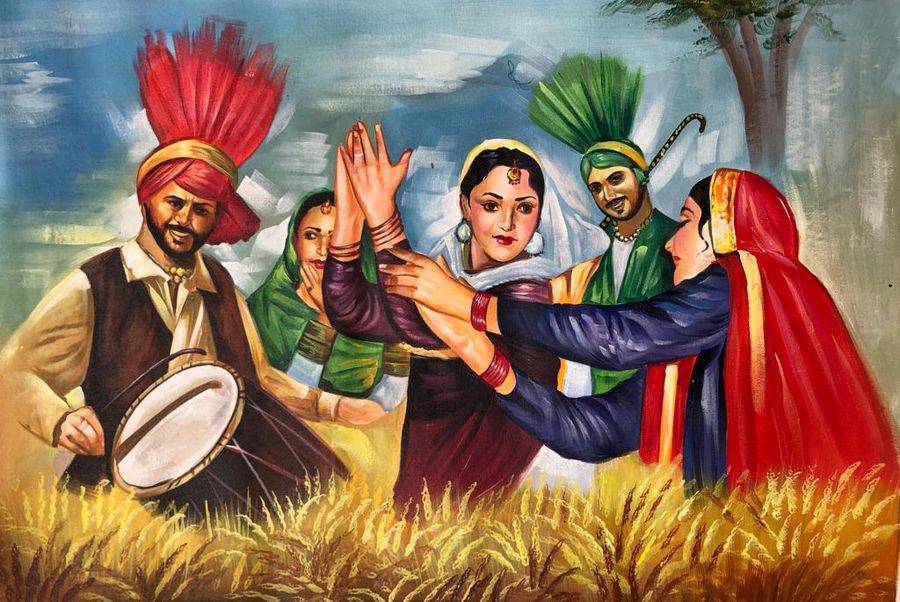 Punjab is well known to be the ancient center of settlements in the Indian Subcontinent; and the first South Asian civilization of South Asia first took root and began to thrive in Punjab around 2500 BC. Due to its geographical location, Punjab has been plundered and ruled by many invaders from South Asia. 
Present day Punjab was created out of the Punjab Province of British India that was divided between India and Pakistan. Homeland of the Sikh community of India, it is one of the most dynamic, homely and hospitable states. It's a land of lush, green hilly areas and fields full of crops throughout the year represent rural India in a true sense.
The state is famous for Punjabi cuisine, agriculture, festivals, gurudwaras, Punjabi folk dances, and so much more wonderful phenomena. It is a truly enchanting place worth knowing more about. In this article we would dive deep into the facts about Punjabi that makes its land and people what they are today. Without further ado, let us take a look at Punjab: the land of five rivers. 
Fun Facts About Punjabi
Punjabi Is Named After Five Rivers
Of course, we begin with the five rivers bit. Punjab is a derivative of two Persian words; 'Panj,' which means 'five', and and 'aab,' which means 'water'. This name is a direct allusion to the five major rivers which flow through the state: Sutlej, Beas, Ravi, Chenab and Jehlum.
Two Countries in One Territory
Prior to India's partition in 1947, Punjab was a really large state in British India. Its partition saw Punjab divided into two regions; Indian Punjab and Pakistani Punjab.
The Cradle of Asian Civilization
The Indus Valley Civilization, built around the Indus river system, spread and flourished across what is now Indian and Pakistani Punjab; and is considered one of the most prominent ancient civilizations. 
Gave Birth to Two New States
On October 30, 1966, modern (Indian) Punjab was born, when Himachal Pradesh and Haryana were carved out.
Punjab Is The Homeland of Sikhism
Punjab is the largest state of the Sikh population – a testament to the work of Guru Nanak Dev, who founded Sikhism in the late 15th century.
Punjab Is The Epicenter of The Sikh Empire
Taking a cue from Guru Dev, Maharaja Ranjit Singh formed the Sikh Empire in Punjab in 1799. It lasted until 1849, as a secular empire. 
Punjabi Population And Area Share
Indian Punjab's total area of 50,362 sq. km makes it only the 20th largest state in India. With a population of 27 million, it ranks as the 16th most populous Indian state.
Punjabi Hosts The Residence of The Holiest Sikh Shrine
The city of Amritsar plays host to The Golden Temple (also known as the Shri Harmandir Sahib), generally considered the holiest and most important pilgrimage site of Sikhism. This temple was designed by the fifth Guru Arjan Dev. 
Punjabi Is Capital of Sikh Pilgrimage
Sikhism recognizes five Takht (Seats of Authority). Of these five, three are in Punjab. Akal Takht resides in the Golden Temple Complex, Takht Sri Damdama Sahib is found in Bhatinda, while Takht Sri Keshgarh Sahib is situated in Anandpur Sahib. 
Punjabi Famous Folk Dances
Fun Punjabi fact: Punjab has some really cool and very famous folk dances, such as the Bhangra, Gidddha, Jhumar, Mirza, Jugni, Dhamaal, Gatka, among others.
Punjab has an interesting nickname: The Granary of India, or the Bread Basket of India. This is because several Rivers flow through the State, making Punjab very fertile. As a result, it produces 17% of India's total wheat production, and 11% of India's rice. This makes agriculture Punjabi's largest industry, so it is no wonder that 84% of the land is under cultivation.
Punjab Shares its Capital with Haryana
You most likely know states with more than one capital. But how about one State sharing its capital with another? The shared capital of Punjab and Haryana is Chandigarh, which is a Union territory (territories governed directly by the Union Government of India). They also share one common High Court, known as the Punjab and Haryana High Court, located in the shared capital city, Chandigarh.
Punjabi Lands Are Not Much Forested
Remember Punjab's total land area? Well, only 1772 sq. km of it is forested – not much, really. Local Punjabi animals and bird varieties include; buffalos, horses, fruit bat, wild boar, wildcat, hog deer, flying fox, mongoose, squirrel. And, if you step into the wrong river, you might come face to face with a dangerous species of crocodile – or more. 
The Baaz (northern goshawk) is the state bird while the blackbuck is the state animal.
The Unique Punjabi Ceremony
With the partition of India in 1947, Punjab was split into two parts; Indian Punjab and Pakistani Punjab, with Indian Punjab shares its border with the Pakistani Punjab. The Border is about 425 km in length. Every year, the Wagah-Attari border ceremony is held on 14 and 15 December during the Independence Day of Pakistan and India, respectively. Attari is a village in the district of Amritsar, India, and Wagah is a village in the district of Lahore, Pakistan.
Punjabi Demand for a Separate Country
In the 1970s and 1980s, the Khalistan (or the Sikh Separatist) Movement reached its prominence. In response, Operation Blue Star was conducted by the Indian Army to stop the movement, resulting in the murder and imprisonment of numerous Sikh militants. Sadly, this operation also led the assassination of the then Prime Minister of India, Mrs. Indira Gandhi.
Prominent Punjabi Personalities
Punjab has been the birthplace of many a legend across different fields of human endeavor. Their impressive A-list of legends include Gurdas Maan (Singer), Akshay Kumar (Actor), Balbir Singh Sr. (Hockey Player), Zail Singh (7th President of India), etc.
Punjabi Has World Famous Cuisines
If you love exotic food, you'll love the Punjabis. Known for their hospitality, they serve their guests their original delicacies which have gained quite the reputation worldwide. Popular Punjabi dishes include Chicken Tikka, Paratha with Butter, Tandoori Chicken, Amritsari Kulcha, Makke ki roti (Bread of Maize), and Sarson ka Saag (Vegetable of Mustard greens). In beverage, they include very famous 'Lassi.'
Punjabis are the major ethnic group in at least 10 countries in across North America, Europe and Asia. In Canada, they are about 2% of the total Canadian population, and have large representations in Australia, Germany, United Kingdom, New Zealand, United States, France, Italy, Spain, Dubai, and so forth.
Punjabi Have Colorful Festivals
Punjabis celebrate their national festivals with gusto and enthusiasm. Their major festivals include Vaisakhi (celebrated after harvesting the wheat crop), and Lohdi (celebrated in January), among others.
T he above are the complete list of interesting fun facts about Punjabi and everything that makes them awesome and popular. While these facts attempted to cover every aspect of the Punjabi people and the Punjab land and history, there are still certain facts not so known about them. These unknown facts about Punjab typically come in the form of questions, popular and frequently asked question about Punjab, these questions would be answered in the following section.
Punjabi FAQs
What is special about Punjabis?
Special thing about Punjabis is that by their outfits and appearance they are very distinguishable among others. Punjab is also the home and origin of Sikhism.
What is the importance of Punjabi?
Punjabi is an incredibly important language that is spoken across two very populated and influential countries; India and Pakistan. Punjabi people form a huge percentage of their population hence they are very important.
Punjabi is believed to have been founded between the year 1709 and 1710 by a hermit known as Banda Singh Bahadur. He was a military leader and a warrior.
What is the old name of Punjab?
The old name of Punjab was Sapta Sindhu which literally translates to Land of Seven Rivers. The seven rivers which it was named after were the Satudri (Sutlej), Vitsta and Vitamasa (Jhelum), Vipasa (Beas), Asikni (Chenab), Parusni and the Iravati (Ravi) rivers.
Statistics show that the people of Punjabi and the Punjabi states are one of the top consumers of liquor and alcohol in the entirety of India.
Which is the most famous thing in Punjab?
The most famous thing in Punjab is the Golden temple.
Punjab was according to the number of rivers in its territory. These five rivers that gave Punjab its name are the Beas, Chenab, Jhelum, Ravi, and the Sutlej rivers.
What Does Punjab stand for?
Punjab stands for five rivers or five waters. The name comes from two Persian words Panj(five) and āb(water).
How old is Punjabi language?
Punjabi language is estimated to be over 5,500 years old.
Who invented Punjabi alphabet?
The Punjabi alphabets which is known as the Gurmukhi alphabet were invented by Angad back in the 16th century. This is history of the Punjabi alphabet according to Sikh traditions.
What is the famous food of Punjab?
One of the most famous foods of Punjab is the Kebab which is typically made of lamb or chicken meat served with flat bread.
What is the main festival of Punjab?
The main Punjabi festival is the Lohri festival. This is due to its great importance to both the Punjabi history and culture.
How many seasons in Punjab?
There are three seasons in Punjab. These three seasons in Punjab are the rainy season, summer and winter seasons.
Where did Punjabis come from?
Punjabis originate from modern day India and modern day Pakistan. Both India and Pakistan used to be one country before it was split and have ethnic Punjabs living from both countries natively.
Punjabi is not a cast but rather a people with their own distinct cultures. They are known to be farmers ad their lands are typically used for faring.