Win Or Lose Quotes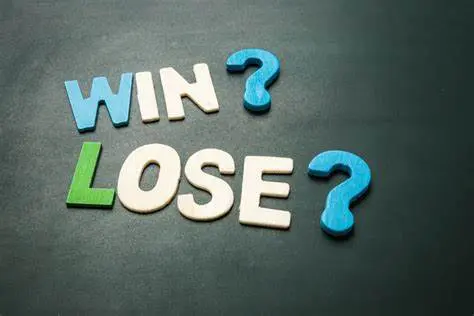 Generally, in life we all want to win or at least be considered to be winners. Nobody wants to lose out in anything or situation and nobody wants to be a loser. It is the reason when you win, an increasing number of people want to be your friend but when you lose even for only a short time, majority of those would want to abandon you. These unrealistic expectations for people winning all the time has led to so many problems including depression that makes people want to self destruct. We cannot win everything every single time, that is why we must learn the attitude needed to handling but win or lose situations, whether you are on the winning team or on the losing team, there's an attitude for it. That attitude is what these quotes about winning are meant to teach everyone.
These win or lose quotes are not to celebrate only those who are winning or to encourage people to keep losing, but to serve as a gentle reminder that nobody ever in the history of humanity has ever won everything they attempted and no one has ever lost everything they attempted. Deeper in the quotes about losing in this article you would realise there are sometimes you win and there are times you lose. Either of those results does not make you less than what you are or make you more than what you are. If you want to win you have to learn the skills, strategies and knowledge of those who have won before you. Sometimes, even doing this is not enough because there are occasionally those who did it better or who just got lucky and got ahead.
The knowledge one takes away from the following quotes about winning is incredible and would go a long way to positively impact the way we look at the times we won and the times we lost. Learn from the smart writers of these wonderful quotes about winning or quotes about losing, doing so would make us winners even when we didn't get our desired results.
Quotes About Winning
If you can't beat 'em, join 'em. – Anonymous
You win some, you lose some. – Anonymous
When two play a game, there must be a winner and a loser. – Anonymous
Sometimes you play a game even when you know you're going to lose or sometimes you leave a game even when you know you can win. – Anonymous
We never lose, either we win, or we learn. – Anonymous
How you gather, manage and use information will determine whether you win or lose. — Bill Gates
You were born to win, but to be a winner, you must plan to win, prepare to win, and expect to win. — Zig Ziglar
You wouldn't have won if we'd beaten you. — Yogi Berra
A computer once beat me at chess, but it was no match for me at kickboxing. — Emo Philips
When you battle with your conscience and lose, you win. — Henry Youngman
To be sure of winning, invent your own game, and never tell any other player the rules. — Ashleigh Brilliant,
Please don't ask me what the score is. I'm not even sure what the game is. — Ashleigh Brilliant
The surest way to remain a winner is to win once, and then not play any more. — Ashleigh Brilliant
A good plan isn't one where someone wins, it's where nobody thinks they've lost. — Terry Pratchett
If you think you can win, you can win. Faith is necessary to victory. — William Hazlitt
One should always play fairly when one has the winning cards. — Oscar Wilde
The purpose of life is to be defeated by greater and greater things. — Rainer Maria Rilke
If you even dream of beating me you'd better wake up and apologize. — Muhammad Ali
Don't be tempted to ask, "Will we win? Will we be defeated?" Just fight! — Nikos Kazantzakis
If you live long enough, you'll see that every victory turns into a defeat. — Simone De Beauvoir
Life is nothing but a competition to be the criminal rather than the victim. — Bertrand Russell
Coaches who can outline plays on a black board are a dime a dozen. The ones who win get inside their player and motivate. — Vince Lombardi
Winning is habit. Unfortunately, so is losing. — Vince Lombardi
A team that thinks it's going to lose is going to lose. — Vince Lombardi
Winning isn't everything, it's the only thing. — Vince Lombardi
We didn't lose the game; we just ran out of time. — Vince Lombardi
Winning is not everything, but wanting to win is. — Vince Lombardi
Winners never quit and quitters never win. — Vince Lombardi
If it doesn't matter who wins or loses, then why do they keep score? — Vince Lombardi
A defeated man does not become a good philosopher. — Jean Dutourd
Fame is something which must be won; honor, only something which must not be lost. — Arthur Schopenhauer
The day you stop racing, is the day you win the race. — Bob Marley
Players with fight never lose a game, they just run out of time. — John Wooden
Gamblers and lovers really play to lose. — Lawrence Durrell
Winning medals wasn't the point of the Olympics. It's the participating that counts. — Pierre de Coubertin
You may have to fight a battle more than once to win it. — Margaret Thatcher
Winners embrace hard work. They love the discipline of it, the trade-off they're making to win. Losers, on the other hand, see it as punishment. And that's the difference. — Lou Holt
You were not born a winner, and you were not born a loser. You are what you make yourself be. — Lou Holtz
You're never as good as everyone tells you when you win, and you're never as bad as they say when you lose. — Lou Holtz
Yesterday is not ours to recover, but tomorrow is ours to win or lose. — Lyndon B. Johnson
When it comes to winning, you need the skill and the will. — Frank Tyger
It's never just a game when you're winning — George Carlin
A quitter never wins and a winner never quits. — Napoleon Hill
History is written by the winners. — Napoleon
Trust me I never lose. Either I win or learn from it — Tupac Shakur
Every win is an injustice to someone. — Aristotle Onassis
The most important thing in the Olympic Games is not winning but taking part. — Pierre de Coubertin
He who acts, destroys; he who grasps, loses. Therefore the Sage does not act, and so does not destroy; he does not grasp, and so he does not lose. — Lao-Tzu
Dieting is the only game where you win when you lose! — Karl Lagerfeld
If you fight you might lose; if you don't, you have already lost. — Bertolt Brecht
There's an old saying that applies to me: you can't lose a game if you don't play the game. — William Shakespeare
If you win, you need not have to explain…If you lose, you should not be there to explain! — Adolf Hitler
If it's not whether you win or lose but how you play the game, why keep score? — Ron Brackin
There is no 'lose' – Only 'win', or 'learn'. — Luis D. Ortiz
When you win, you often lose, that's just a fact. There's no currency to straighten a warped spirit, or open a closed heart, a selfish heart … — Abraham Verghese
Life is a game. You win or lose. Everything else is a compromise and an excuse. — Rajesh Sarna
Victories and defeats form part of everyone's life – everyone, that is, except cowards, as you call them, because they never lose or win. — Paulo Coelho
You can either avoid making mistakes and play not to lose, or you can make the most of every opportunity and play to win. — Mark Batterson
A competitive world offers two possibilities. You can lose. Or, if you want to win, you can change. — Lester Thurow
Battle is for an army to win or lose; war is for civilization to win or lose. — Ian C. Esslemont
For this album I was determined to do it my way. Take my time. I'm gonna win, lose or draw on my own. — Pras Michel
When it's over, it's over is part of football's greatest appeal to me. When a game ends, win or lose, it's time to prepare for the next one. — Tony Dungy
It is not whether you win or lose, but who gets the blame. — Blaine Nye
My heart is in this work, for it is not a question of 'Will we win' or 'Will we lose.' We must win, and that is all there is to it. — William Kalush
Or to quote another paradoxical gem of my dad's: sometimes you have to lose to win. — Donna Tartt
Eighty per cent of teams who score first in matches go on to win them. But they may draw some – or occasionally lose. — David Pleat
Jim Rohrbach sticks to his rules. You can learn from him and win, or ignore him and lose. It's an easy choice. He gives trend following a good name! — Michael Covel
I told you I believed in you, win or lose, I was going to be in the stands cheering for you tonight. — Jaci Burton
I get to leave here and do what I love, whether I win or lose. And that seems to matter more than anything else. — Kelly Fiore Stultz
Forget death and taxes. The only sure thing is that, win or lose, Don King is counting the money. — Tim Witherspoon
Life is not about win-and-lose. Life is about being or not being, expressing or not expressing, who you are. — Neale Donald Walsch
No matter if you win or lose, the most important thing in life is to enjoy what you have. — Dong Dong
Public speaking professionals say that you win or lose the battle to hold your audience in the first 30 seconds of a given presentation. — John Medina
Prepare to win, or lose to someone who is. — Jeffrey Gitomer
It's a Renaissance, or put more simply, some you win, some you lose — Des Lynam
How you gather, manage and use intel in life determines whether you win or lose. That's the # 1 rule for the mavericks in business. — Ziad K. Abdelnour
Life is war, war is game so life is game. Either lose or win. Know it earlier — Oladosu Feyikogbon
Life is a game, you either win or loose but there is no draw — Ikechukwu Izuakor
Do not worry about winning or losing; think of what you will gain. — M.F. Moonzajer
It's the attitude of the players, not their skills, that is the biggest factor in determining whether you win or lose. — Harry Sinden
Who ever said, 'It's not whether you win or lose that counts,' probably lost. — Martina Navratilova
The bittersweetness of uncertainty: To win or to lose. — Markus Zusak
In war, you win or lose, live or die – and the difference is just an eyelash. — Douglas MacArthur
I don't believe in competition for artistic things. I just like the atmosphere of the Cannes festival. I don't want to win anything or lose anything. — Woody Allen
Win or lose, do it fairly. — Knute Rockne
You don't win or lose the games bcoz of 11 you select. You win or lose with what those 11 do on the field. — Rahul Dravid
I've always tried to tell myself that the work itself is the thing, that win, lose, or draw, the work is really what counts. — Julius Erving
With Ferrari sometimes, you win or you lose depending on what the mood of the team in general, of the group in general. — Fernando Alonso
Act now on those ideas! As they say, you snooze you lose. Or as I say, if you begin you win. — Richie Norton
Win or lose, good or bad, the experience will change you. — Richelle E. Goodrich
When you play Bobby, it is not a question if you win or lose. It is a question if you survive. — Boris Spassky
It's not whether you win or lose, it's about how you play the game. — Sherman Alexie
Listening to his songs she heard nothing but bad news, still she made her mind up to try to get him win or lose. — Waylon Jennings
Win or lose, I am programmed to do more. That's because I am the other son of Jorel – Superman. — Shaquille O'Neal
You can choose, don't confuse, win or lose, it's up to you. — Ozzy Osbourne
You have to be true to yourself and remain humble. Whether you win or lose, you've got to treat everyone the same, and be who you are. — Randy Couture
Krishna tells Arjuna in Gita whether you win or lose that is not important, what is important is that you perform your duty with right attitude. — Radhanath Swami
Today it was win or lose. But my victory yesterday and the downhill globe boosted my confidence. My record in Cortina was also a liberation. — Lindsey Vonn
In life you get the choice, it depends on what you choose and how you live with the consequences to whether you win or lose! — Adam Johnston
He either fears his fate too much / Or his deserts are small / That puts it not unto the touch / To win or lose it all. — Richard Cohen
Oftentimes winning can become an addiction, whether good or bad, to the point where you would rather lose it all before you lose at all. — Criss Jami
If you join a fight for social justice you may win or lose, but just by being part of the struggle, you win, and your life will be better for it. — Howard Zinn
When you've done everything you can to train yourself for competition, you'll sleep well when the tournament is over, win or lose. — Karch Kiraly
As long as you fight, you cannot lose … if you leave everything out there, it doesn't matter if you win or lose. To me you can never lose. — Bas Rutten
Chile have three options – they could win or they could lose. — Kevin Keegan
If you play with dirt, no matter if you win or lose, either way you will get dirty. — Debasish Mridha
On any given Sunday you're gonna win or you're gonna lose. The point is can you win or lose like a man? — Al Pacino
Something interesting about the above collection of quotes is that they double as quotes about losing as well as quotes about winning, because they aim to help you maintain an awesome frame irrespective of the outcome you get at anytime in life. Share these positive win or lose quotes with your family and friends to help remind them of the most important things about winning or losing, so they don't lose themselves trying to win others.