Judgemental Quotes To help You Understand People.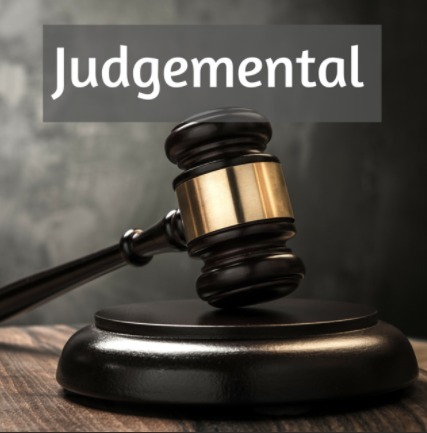 Most people do not like judgemental people, especially those that do not get the full details of incidents before jumping in to judge. For such individuals, we have the best judgemental quotes to help them learn to apply wisdom and not be too judgmental of others.
We all make mistakes but when others are too judgemental on us, it often leads to more hurt instead of fixing whatever is already broken. These eye opening quotes about judgemental people and being judgemental would teach everyone how to handle situations and not let the inner saint and judge take control of our everyday situations and understanding.
The following quotes about being judgemental are from historical intellectuals who realize the harm of being judgemental and decide to teach others to stay away. Their lessons are compiled in the form quotes about being judgemental and they have their names written alongside each quote.
Quotes On Judgemental People
Judgement is often no more than a confession of ignorance. – Bill Clegg
Before you condemn someone else for a wrongful act, check your behavior and see if you too, have committed an act similar or even worse than the act that person has done. Then you won't be in a position to judge. – Ellen J. Barrier
Judgements prevent us from seeing the good that lies beyond appearances. – Wayne Dyer
Judgmental heart has lack of introspection. – Toba Beta
The most judgmental people are often those who complain most about being judged. The ones not complaining will look as though they're the ones doing the judging. – Criss Jami
People decide what you're like before they even get to know you. They think they know all about you. Except, you're never who they think you are. – Celeste Ng
It would be nice to create something that's healing rather than slightly creepy and darkly judgmental. – Jenny Lewis
Never judge a potato by its skin. One day, it will be french fries. – Ian Wilson
When you judge others, you do not define them, you define yourself. – Earl Nightingale
Judging others makes us blind, whereas love is illuminating. By judging others we blind ourselves to our own evil and to the grace which others are just as entitled to as we are. – Dietrich Bonhoeffer
Everyone may not be good, but there's always something good in everyone. Never judge anyone shortly because every saint has a past and every sinner has a future. – Oscar Wilde
Judgement comes from experience, and experience comes from bad judgement. – Simon Bolivar
Please be kind, don't be judgemental. –Noel Edmonds

I would wish that people would accept people for who they are, not be judgmental, allow people to live their lives and enjoy themselves and that would be my wish for people. – John Barrowman

The eye of judgment sees at a distance what it refuses to see in it's own reflection. – T.F. Hodge
And finally, no matter how good the science gets, there are problems that inevitably depend on judgement, on art, on a feel for financial markets. – Martin Feldstein
It is very important to carefully observe the things we see before we judge. Things aren't always as they appear. – Ellen J. Barrier
And I'm not assuming and I'm not judging. I'm just being curious. – Ned Vizzini
Don't make judgments about something you know nothing about. – Cecily von Ziegesar
How often it is that we set ourselves in the high seat, judging others, not having read their book but merely having glimpsed the cover. – Richelle E. Goodrich
Property may be destroyed and money may lose its purchasing power; but, character, health, knowledge and good judgement will always be in demand under all conditions. – Roger Babson
I don't really have that many judgements on things, or crazy statements that I feel like I have to put across. – Rita Ora
An expert is someone who has succeeded in making decisions and judgements simpler through knowing what to pay attention to and what to ignore. – Edward de Bono
To live with someone who likes you, and whose judgement you respect, because you love them, does make quite a difference, I find. – Roger Scruton
Understanding trauma and that we each respond to it differently will help us be supportive and nonjudgmental toward each other. – Stephanie S. Covington
Even the thinnest anything, has two sides to it. Let's seek to examine both sides to everything before we judge. – Dr. Jacent Mpalyenkana
People who judge others tell more about who they are, than who they judge. – Donald L. Hicks
Only the shallow judge others, those with character know to judge themselves before they judge others. – Abhijit Naskar
Success in life is the result of good judgment. Good judgment is usually the result of experience. Experience is usually the result of bad judgment. – Tony Robbins
One should make morals judgements for oneself. – Kathryn Bigelow
Hesitancy in judgment is the only true mark of the thinker. – Dagobert D. Runes
Even when people are so judgmental about what you wear or your weight you just have to step away and be like, I'm a normal, fine human being. – Leighton Meester
Be careful not to measure your holiness by other people's sins. – Martin Luther
If I've learned one thing in life, it's not to be so judgmental of other people. – Patti Smith
When we make judgements we're inevitably acting on limited knowledge, isn't it best to ask if we seek to understand, or simply let them be? – Jay Woodman
I've been a vegetarian for years and years. I'm not judgemental about others who aren't, I just feel I cannot eat or wear living creatures. – Drew Barrymore
It's very easy to be judgmental until you know someone's truth. – Kate Winslet
Even god doesn't propose to judge a man till his last days, why should you and I? – Dale Carnegie
The more seriously we work on our own imperfections, the less we are judgemental of the imperfections of others. – Neal A. Maxwell
No one is born ugly, we're just born in a judgemental society. – Kim Namjoon
I'm not a judgmental person, so I can't comment on someone else's background. – Christina Aguilera
When I am sharply judgmental of any other person, it's because I sense or see reflected in them some aspect of myself that I don't want to acknowledge. – Gabor Maté
It amazes me sometimes that even intelligent people will analyze a situation or make a judgement after only recognizing the standard or traditional structure of a piece. – David Bowie
Do not judge, or you too will be judged. For in the same way you judge others, you will be judged, and with the measure you use, it will be measured to you. – Matthew 7:1-2
Be curious, not judgmental. – Walt Whitman
You never know what people are going through, because, each person you meet has a story to tell. So instead of being judgmental, just listen well. – Charmaine J. Forde
It is best to disregard their talk and judge only their actions. – Dorothy Day
Let's stop being so damn judgemental & crucifying everyone who doesn't fit into our boxed-in perceptions of what is right. – Gillian Anderson
As your consciousness, refinement and pureness of heart expands you will become less judgmental, less corrective, less reactive, less black-and-white, less critical, less apt to blame and less tormented by others and their faults and views. – Bryant McGill
The above quotes about judgemental people were not written to judge anyone but to show people a different way of attending to situations without being too mean and judgemental on others. Sharing these judgemenal quotes with family and friends would ensure the knowledge goes far and wide and help reduce the amount of judgemental opinions from our society.