Quotations About Expectations You Need.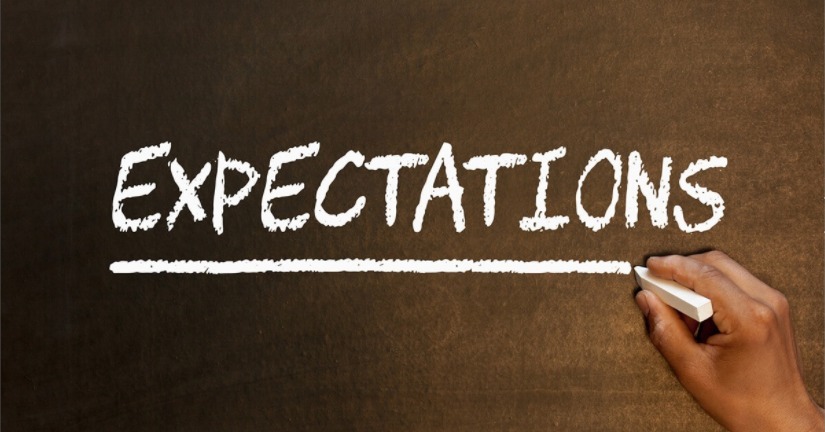 There's a saying that goes; Expectation is the mother of disappointment. That statement is so true I consider it a wise quote, that is because if we don't expect something we would never be disappointed by same thing not happening. Understanding expectations is what this post about expectations quote intend to show you how to. The quotes in this list of quotations about expectation are wise thoughts like the first line in this article, that teaches us how to expect something and how to manage the expectation as well as how to manage the disappointment that would likely show when what we expected never materializes.
Training your mind with quotes about expectations and living your life according to the wise quote from brilliant people who perfectly understands the act of expectation, would go a long way in making your a much better person that you thought you were. This is because, when you allow yourself to be regularly disappointed, you end up losing trust in people and that would lead to something worse. Sharpening your mind and heart on how to expect things with the brilliant quotes about high expectations as contained in this post would show protect you from series of disappointments and betrayals.
As with every one of our posts about awesome quotes, the following expectations quotes are written alongside the name of the original authors whose thoughts and speeches these quotations about expectations are culled from.
Brilliant Expectations Quotes
Expectations is the mother of disappointment. – Anonymous
When you stop expecting people to be perfect, you can like them for who they are. – Donald Miller
I find my life is a lot easier the lower I keep my expectations. – Bill Watterson
If you expect great things of yourself and demand little of others, you'll keep resentment far away. – Confucius
A wonderful gift may not be wrapped as you expect. – Jonathan Lockwood Huie
Blessed is he who expects nothing, for he shall never be disappointed. – Alexander Pope
Live your life, sing your song. Not full of expectations. Not for the ovations. But for the joy of it. – Rasheed Ogunlaru
There were two ways to be happy: improve your reality, or lower your expectations. – Jodi Picoult
If you expect nothing from somebody you are never disappointed. – Sylvia Plath
You can devise all the plans in the world, but if you don't welcome spontaneity; you will just disappoint yourself. – Abigail Biddinger
I'd rather be pleasantly surprised than fatally disappointed. – Julia Glass

Our desires always disappoint us; for though we meet with something that gives us satisfaction, yet it never thoroughly answers our expectation. – Elbert Hubbard

We must rediscover the distinction between hope and expectation. – Ivan Illich
Life is so constructed, that the event does not, cannot, will not, match the expectation. – Charlotte Bronte
It's the weight of expectation that's the hardest to deal with, really, from my point of view. – Kevin Pietersen
Expectation is the mother of all frustration. – Antonio Banderas
If you were easier on yourself, you wouldn't be so tough on everyone else. – Kate McGahan
The key in letting go is practice. Each time we let go, we disentangle ourselves from our expectations and begin to experience things as they are. – Sharon Salzberg
Our brightest blazes of gladness are commonly kindled by unexpected sparks. – Samuel Johnson
There is no joy involved in following others' expectations of yourself. – Miriam Toews
You can't expect everyone to have the same dedication as you. – Jeff Kinney
Expect everything so that nothing comes unexpected. – Norton Juster
Expectations are dangerous when they are both too high and unformed. – Lionel Shriver
Expectation wasn't just about what people expected of you. It was about what you expected of yourself. – Brandon Sanderson
Look. I have a strategy. Why expect anything? If you don't expect anything, you don't get disappointed. – Patricia McCormick
Life was easier when you stopped caring, when you stopped expecting things to get better. – Cora Carmack
I hope you do not let anyone else's expectations direct the course of your life. – Julianne Donaldson
Expectations were like fine pottery. The harder you held them, the more likely they were to crack. – Brandon Sanderson
…the issue isn't so much what I want to be, but whether or not I can be it without hurting everyone else in the process. ― 
It is what you don't expect… that most needs looking for. ― 
Be realistic with your expectations. I'd like to cuddle a unicorn, but it ain't going to happen. – India Knight
Expect more, get less, and feel sadness or expect less, get more, and feel happiness. – Vijay Dhameliya
Unhappiness lies in that gap between our talents and our expectations. – Sebastian Horsley
That was the thing about the world: it wasn't that things were harder than you thought they were going to be, it was that they were hard in ways that you didn't expect. – Lev Grossman
No expectations mean there is no risk of disappointment. – Jude Morgan
Expectations should not always be taken as reality; because you never know when you will be disappointed. – Samuel P. Huntington
He was swimming in a sea of other people's expectations. Men had drowned in seas like that. – Robert Jordan
It is easier to make our wishes conform to our means than to make our means conform to our wishes. – Robert E. Lee
You are one of the rare people who can separate your observation from your perception. You see what is, where most people see what they expect. – Tsitsi Dangarembga
You are your own worst enemy. If you can learn to stop expecting impossible perfection, in yourself and others, you may find the happiness that has always eluded you. – Lisa Kleypas
Whatever it is you're seeking won't come in the form you're expecting. ―
We cannot expect people to have respect for law and order until we teach respect to those we have entrusted to enforce those laws. ― 
If you want to give yourself a fair chance to succeed, never expect too much too soon ― 
To love without need or without expectation of restitution, that is how we ought to love. ― 
We all remember epochs in our experience when some dear expectation dies, or some new motive is born. ― 
I may be surprised. But I don't think I will be. ― 
I was no longer afraid. Not of important men, not of trustees and such; for knowing now that there was nothing which I could expect from them, there was no reason to be afraid. ― 
Expectations send unconscious signals that people respond to. – Tony Robbins
What do you think about the amazing collection of expectations quotes that went deep into exposing the importance of expectations and the importance of not expecting much as you could get further disappointed by expecting too much from people. Don't hesitate to share this awesome collection of expectations quotes with your family and friends who enjoy awesome quotes like the ones in this article.