Fun Facts About May.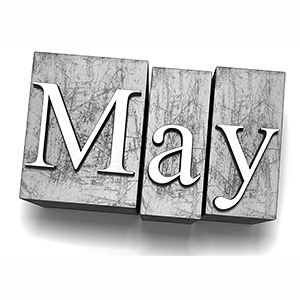 May is the fifth month of the year in today's calendar and also the Julian calendar. It is the third month out of seven months to have a 31-day length. It is said to be the third month of spring for those in the Northern hemisphere as it is the month of Autumn in the Southern hemisphere. Asides being the middle of the fifth month of the year, there are other interesting and fun facts about May most people do not know and they would be covered in this article.
In this article, I'll be sharing with you the May fun facts you need to know about the month of May. Without wasting much of our time, let's get right into it.
Fun Facts About May
May is said to be one of the most popular names for girls in Wales and England as it sits on 576 on the list.
Star Wars day is held on the 4th of May. It is also referred to as May the Fourth which is quite synonymous with "MAY THE FORCE be with you" from the Star Wars movies. Many Star Wars fans are known to rewatch the movies on this day.
Traditionally, May is thought to be named after the Maia, the Greek goddess of fertility but Ovid, the Roman poet says it was named for the maiores which means the elderly. He also believed the next month, June, was named for the iuniores which means the youth. I guess the latter is quite convincing.
During the month of May, Morris County takes place. It is a type of traditional folk dancing that is performed by groups of either men or women.
It has quite some holidays
The month has some holidays in it, with Star Wars day being the first, though it's not official. Other holidays are Dance Like a Chicken Day and International Hamburger day.
Also, in the UK, there are still two more bank holidays which are May Day which takes place on the first Monday of the month, and Spring Bank holiday which takes place on the last Monday of the month.
Funny enough, a cheese rolling contest is held in the town of Stilton to celebrate May Day.
There are two zodiac signs in May and they are Taurus and Gemini. If you're born from May 1 to May 20, you're considered a Taurus and if you're born from May 20 onwards, you're considered a Gemini.
Some famous people born in May include Facebook founder Mark Zuckerberg, singer Adele, Bob Dylan, actor Henry Cavill and Dwayne Johnson, 35th US president John F Kennedy, and Clint Eastwood.
It was once the third month
Contrary to what we all see now, May used to be the third month of the year in the early Roman calendars before a reform took place.
Like every other month, May has its birth flowers and they are Hawthorn and Lily of the Valley.
It has quite some prime ministers
The month of May has had more UK prime ministers born in it than any other month of the year. A whole 9, if you want to know.
The birthstone associated with the month of May is Emerald. It is thought to symbolize rebirth and youthfulness, and it is said to grant good fortune.
The University of Columbia conducted research that shows that people who are born in May have a lesser risk of getting cardiovascular, respiratory, reproductive, and neurological diseases. However, this shouldn't stop you from deliberately having a healthy lifestyle.
That's all about the important May fun facts you probably didn't know about, these fun facts about May covered various aspect of the fifth month of the year, things majority of people even those born in May, do not know about.
Below we would be looking at some popular and frequently asked questions about May. Lots of people have different questions about May and want to learn something new about the month, there's no better way for them to learn something about the month of May than to ask the following questions.
FAQ About May
What is special about month of May?
The special things about the month of May are;
We have warmer temperatures during May.
There are blooming flowers in the month of May.
What are May born called?
People born in May are called Taurus or Gemini depending on what day in the month of May they are born. If you are born from April 20 to May 20 you are a Taurus while for those born from May 21 to June 20 they are called Gemini.
What is May known for in us?
In the US the month of May is known for Love and Success. May is also known as a popular name for new born girls in the month.
Why is May 1st called May Day?
May 1st is called May Day because it is a day that is set aside for the celebration of the return of spring.
What is recognized in May?
There are several recognized holidays and celebrations in the month of May and some of those recognized celebrations are listed below:
Correct Your Posture Month.
International Drum Month.
Jewish American Heritage Month.
Ehlers-Danlos Syndrome Awareness Month.
ALS Awareness Month.
American Cheese Month.
Better Speech and Language Month.
Celiac Disease Awareness Month.
Global Employee Health And Fitness Month
National Asparagus Month
National Dental Care Awareness Month
National Stroke Awareness Month
National Military Appreciation Month
National Motorcycle Awareness Month
Sturge-Weber Syndrome Awareness
National Mental Health Awareness Month
National Wildfire Awareness Month

National Brain Cancer and Brain Tumor Awareness Month
Date Your Mate Month
Yes May born are known to be attractive both physically attractive and mentally attractive. These two attraction attributes has proven to make them irresistible.
May born are known to be very romantic this is according to their zodiac sign. The month is influenced by the planet Venus which in astrology is known to be a symbol of love and lust.
How did the month of May get its name?
May got its name from the Greek goddess Maia.
That's all we have for both facts about May and popular frequently asked questions about the month of May. If you have family and friends who are eager to learn something new about the awesome month of May, don't hesitate to share this article with them.