Unknown Facts About October.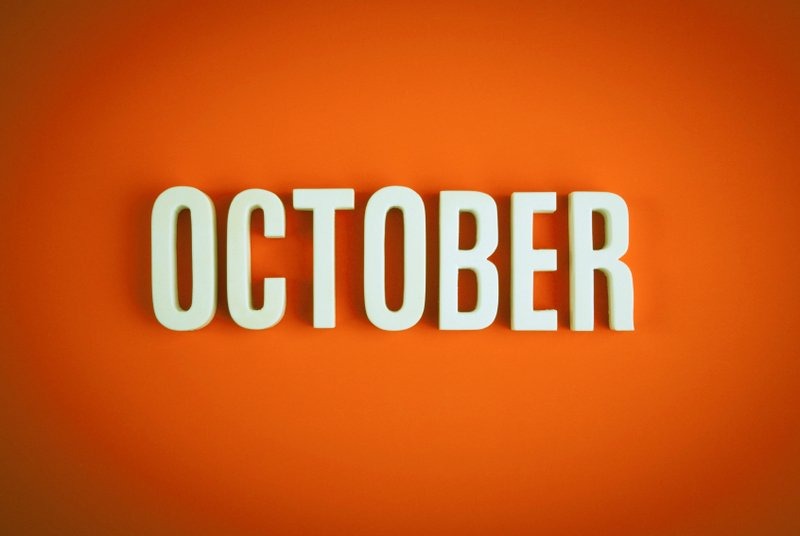 October is the tenth month of the year in today's present calendar as well as the Julian calendar. It is the sixth month to have a 31-day length out of a total of seven. During this month, things start to get a bit cold and dark for those in the Northern hemisphere when compared to the previous month. October has a lot of celebrations that are held by different people and cultures around the world.
The month of October has some funny things that you might not know but in this article, I'll be sharing with you 18 facts you need to know about October.
It is a big month for US leaders
October is quite a top month for leaders in the US as it seems to be a month with many presidential births. Funny enough, more US Presidents are born in the month than any other month of the year.
It comes with longer life
Over the years, research has shown that those born in October, at least births in the Northern hemisphere, tend to have longer life when compared to other people born in other months of the year. This makes it a great month for longevity so if you want that, you might try to get things down around the first to the second month of the year.
It is quite important for the culture
October is also known as Black History Month which is a huge and important period in the year for African-Americans and other people who want to know about the history of black people across the centuries.
An important time for sports
In the US, October is a big time for sports and its fans as that is when the season and series for the National Basketball League, Major Baseball League, and the National Hockey League all begin.
Traditionally, October was known as "wein-mond" in German which when translated to English means "wine month". So don't forget to pop that cork and pour one or two glasses to celebrate the wine month appropriately.
It has a bit of weird origin
The word "octo" in October has a meaning and when translated from Latin, it means eight, which doesn't really support why it's now the tenth month. So for this, October was originally the eighth month in the Roman calendar but when the calendar saw a reform, two months were added which then made October the tenth month in today's Gregorian calendar.
In the United Kingdom, Apple Day is celebrated on the 21st of October. So do well to take some apple or an apple drink to celebrate it. And also don't forget, an apple a day keeps the doctor away.
The month of October holds perhaps one of the biggest festivals in Hawaii. The "Aloha" festival is held in October every year by the people of Hawaii as they come together to plan parties and colorful parades to celebrate. Surprisingly, the festival now attracts tourists from other states and countries.
There are other celebrations held in the month of October by people of different pursuits and interests. Some of the celebrations include Pretzel Month, Squirrel Awareness and Appreciation Month, Pasta Month, and National Month of Sarcasm. This is quite a lot.
Traditionally, October was known as Winterfylleth by the Anglo-Saxons and this is thought to highlight the fact that in October, the temperature and weather of the Northern hemisphere seem to become a bit more chill. It is said to refer to the winter fullness.
People born in the month of October are thought to be natural athletes and they grow up to be quite sporty. They are known to run much faster on average than people born in other months.
Over the years, people born in October have been thought to be more susceptible to developing asthma which might make them have trouble breathing.
It makes the leaves turn brown
In October, the leaves of many trees tend to start falling after they have changed color. In mid-October, this is said to be at its peak as you'll likely see lots of brown leaves that have fallen on the floor almost everywhere. Over the years, it has even become a thing for people in the US to travel across states to watch leaves fall.
Halloween is celebrated each year on the 31st of October. People dress up in different frightening costumes and masks to keep bad spirits away.
It holds another big festival
In Germany, Oktoberfest is celebrated in October, obviously, and it is said to encourage people there to eat, drink, and just have fun. Over the years, the Oktoberfest celebrations have spread to other countries like the UK and US.
It is important in the US
Apart from other holidays that are celebrated by the US in October, the month is also important because it is host to Fire Prevention Week which also overlaps with the anniversary of the Great Chicago Fire. During this time, a lot of awareness programs and events are held to educate the citizens about fire safety and prevention tips.
It brings some season changes
In the Northern hemisphere, October is quite dark and cold but the weather and climate are quite similar to April in the Southern hemisphere. This means that in the Southern hemisphere, things are likely to start getting quite warmer.
There are two zodiac signs in October: Libra and Scorpio. If you're born from the 1st to the 22nd, you're considered a Libra and if you're born from the 23rd to the 31st, you're considered a Scorpio. If you're born between 23rd of September and 23rd of October you are a Libra.