The World's Most Expensive Boots.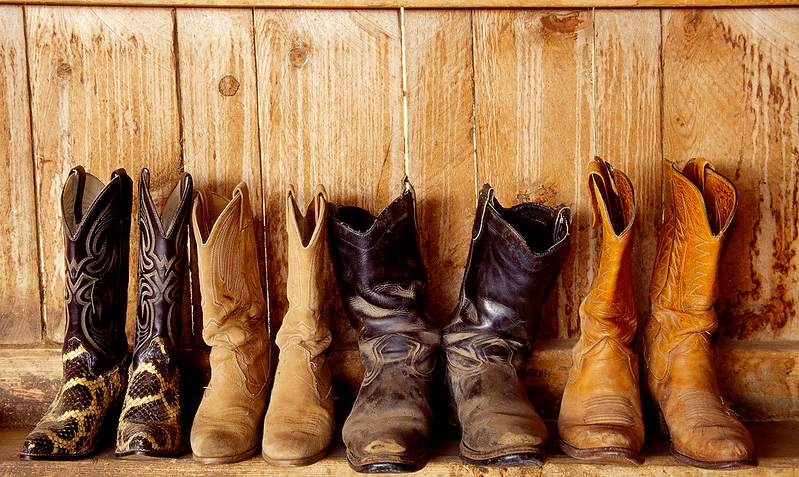 Are you a cowboy? Do you love boots? let's put those together, are you a cowboy and love boots especially when the boots are expensive? Then this article is for you. Even if you're not a cowboy but you love boots and want to have idea what the world's most expensive cowboy boots could cost you just in case you want to buy those, then this article on most expensive boots is also for you.
Boots or cowboy boots to be precise cost different amount these days, you could get a pair of good boots for a couple of bucks and they'd serve you very well as long as they live, you could also spend much higher than the usual average to get the best of the bests, if you want to get an idea of where to lavish all that money on a pair of boots, then read down to make your choice of expensive cowboy boots.
The First Expensive Boots Recorder Breaker
In April 2006, an editorial in Forbes Magazine affirmed that the most expensive cowboy boots were purchased at $75,000. 
And if I am to give my view, I would the amount spent is too much. I would be too scared to put them on!
Well, that was 2006. After that, the record was beaten by one of the world's best leather craftsman and silversmith.
What Pair Of Expensive Boots Stands A Chance Of Surpassing The Record?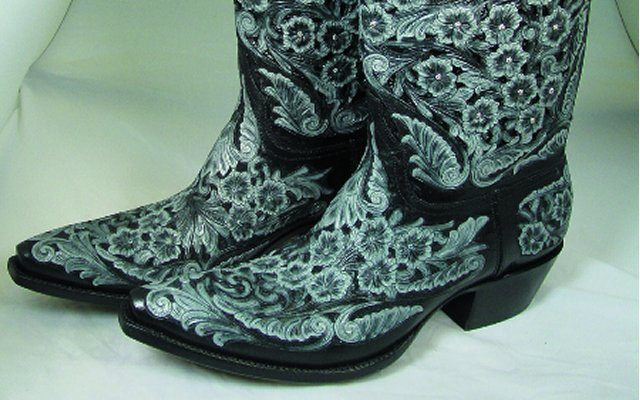 With over 800 hours dedicated to making the boots, they broke the record by selling for a whopping $106,000!
These boots were designed to be worn, but they are worth more being displayed at the best art museums.
No local or street store can have anything close to this boot, so where can you purchase such an expensive pair of boots?
You can go to Stevensville, Montana. The craftsman who designed those boots, Howard H. Knight, owns a studio where he designs different stunning works of art.
There's A Story Behind The Expensive Boot
The boots were made in 2010 and were called the Phantom Boots and were worth over $100,000. It took a while before the name of the boots could be decided.
They got the name Phantom Boots as a result of the floral carvings that seem to be floating around and all over the boots.
There six layers of coats on each leather flower, and all of them have different shades to gray to enhance its detailing and depth.
The flowers are designed to rise off the boot, and each of them is embellished in the center with an 18-karat white gold flower.
The base leather was obtained from saltwater crocodile and was manufactured at the Hermes factory situated in Paris. Also, the interior of the boots is made with black kangaroo.
At this point, we are sure you have an idea of why these boots are quite expensive.
This unique style of cowboy boots is normal for Howard Knight because he is good at designing exceptional high-quality boot. 
Knight has been a passionate artist even at a very young age and has always loved to design exclusive cowboy boots.
For many years, his work has been present in numerous fashion magazines as well as in two books, namely the Cowboy Boots by Tyler Beard and Cowboy Boots, The Art and Sole by Jennifer June.
You've read it now and have an idea of what the most expensive pair of boots is, will you be going for it, do you have enough dollars to splash on those beautiful expensive boots?
Notable mention of most expensive boots that were not feature up above in the article;
Jack Armstrong's Cosmic Cowboy Boots – $6 Million.
AF Vandevorst Diamond Boots – $3.1 Million.
3Howard H.
Tres Outlaws' Cowboy Boots – $75,000.
Nike Air Mag 2016 – $37,000.
Spiky Red Christian Louboutin Boots – $30,00
Let's look at some of the most frequently asked questions by people interested in the most expensive boots.
See these Halloween trivia questions.
FAQ About Most Expensive Boots In The World
What is the most expensive pair of boots?
The Jack Armstrong's Cosmic Cowboy Boots holds the record for the current world's most expensive boots, The Cosmic Cowboy boots from Jack Armstrong costs a whooping $6 million.
What is the best brand of boots?
There are a couple of great brands of boots out there, these brands put in the time, quality of material into making these boots. The best brand of boots could be any of the following boots brand according to your budget and preferences;
Grenson.
Alden of New England.
Dr Martens.
Fracap.
Timberland.
Tricker's.
Clarks.
Red Wing.
What's the best cowboy boot brand?
The best cowboy boot brand could be any of the following awesome brands of boots;
Tony Lama Handcrafted Boots.
Stetson Company Western Boots.
Justin Cowboy Boots.
Old Gringo Boots for Men & Women.
Frye Boot Company.
Dan Post Western Boots.
Nocona Handcrafted Boots.
Anderson Bean Boots.
The brand that owns boots is Alliance Boots.
What is the most expensive animal skin?
The most expensive animal skin is crocodile skin because it is the most sought after animal skin.
Are Carolina Boots Made in USA?
The answer is a Yes and a No, some Carolina Boots are really made in the USA, precisely at their factory in Martinsburg, Pennsylvania.
Your boots shouldn't necessarily be tight because the more tight it is the less comfortable it becomes, but it should fit well enough to allow it not sleep off when climbing.
Why are American alligator boots so expensive?
American alligator boots are so expensive because of the scarcity of alligator skin which is the material used in making these alligator boots.
Are ostrich boots expensive?
Yes ostrich boots are expensive and it is for the right reason. Ostrich skin leather is the best in the market. It is the best because it is soft and with very high level of resistance. These qualities add to the price of the ostrich boots. Alongside that is the high demand for ostrich skin.
That's all the facts you need to know about the most expensive boots in the market. Don't forget to share these facts with your friends who love to wear some boots.