Inspirational Weekend Quotes.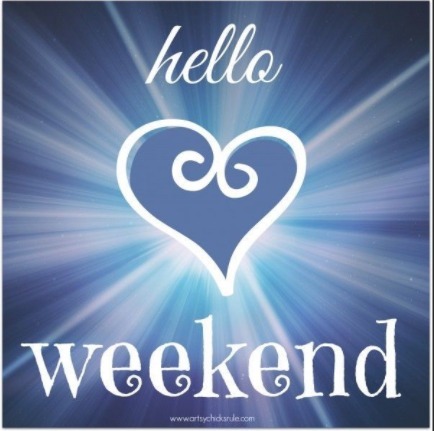 Each weekend usually signals the temporary end of the work week, the few days we have to rest away from work and devote more of our time to ourselves and family. The worst thing for anyone is having a bad weekend after a hectic work week, that is why we have some of the most awesome weekend quotes that would support and help you enjoy each weekend to the fullest and be of happy spirit before resuming back to work or school. These weekend quotes are all fun and interesting with your best interest in mind.
If you want to enjoy the very next weekend to the fullest then the following motivational and inspiring weekend quotes are for you. Some of the following weekend quotes come from famous people who, during their time perfected the act of enjoying the weekend to the fullest, hence they are able to write down these amazing quotes about the weekend for us.
Weekend Motivational Quotes
I have to be alone very often. I'd be quite happy if I spent from Saturday night until Monday morning alone in my apartment. That's how I refuel. –Audrey Hepburn
The weekend will always be hidden between days. ― 
My Sunday is a leisure day in which I encourage myself to forget the responsibilities of my workdays and engage honestly with my friends and loved ones.  ― 
Freedom begins where work ends- the realm of freedom is after hours, on the weekend, on vacation, and not at work. ― 
The weekend is like a superhero, flying and swooping in to save the rest of the week.
It's weekend. Take it slow and give your soul a chance to catch up with your body.
Just leave all your worries and jump like a child on your weekends.
Hands up if you're ready to do something you'll regret this weekend. Go forth! You have my blessing. – Florence Welch
No matter how stressful the week has been, the weekend has come and let the good things happen.
Men are simple things. They can survive a whole weekend with only three things: beer, boxer shorts and batteries for the remote control. – Diana Jordan
Nobody wants to give up a weekend long excuse to dress up and attempt to outshine one another. – Elizabeth Eulberg
It is going to be a weekend not only for you, It is going to be a weekend for your suits, shoes, files, laptops etc.
This weekend, remember that the Lord is with you at all times, guiding you through every moment of your life. Where you are right now is exactly where you are supposed to be.
Weekend comes with your best days. You get to reflect on the amazing, productive week you had and you get to think about how you are going to tackle next week.
The problem is that I hate holidays… I hate the whole idea of it… That for you today is Christmas for me is nothing different than the typical week or weekend. ― 
There are 365 days and 52 weekends in a year. Even if you are short on time off, you can still take weekend getaways. Does that count as a vacation? Of course it does
It is necessary to have a great weekend so that you can be as happy on the weekdays.
The weekend is usually seen as a time for relaxation or a time to do what you wanted to do through the week but couldn't or a time to catch up on needed sleep or a time to visit with family and friends.
Every day you put off your dream adventures is a day too late – Life's short, live it now! Happy Weekend.
Leave all your troubles and worries in the past and have a wonderful weekend ahead!
Take your life in your hands this weekend and remember that impulsive and foolish decisions make up the best stories. Have a great weekend!
The first day of your two-day journey is here, so let's roll and rock this world!
Collect your energy during the week, you'll need it if you still want to dance during the whole weekend!
Your weekend is great, let it be as vibrant as a rainbow and it'll bring joy, which will never disappear.
Every day is a blessing, so spend it with the person, who constantly makes you smile – me. Have a good weekend.
All five previous days you have spent your life in vain, so it's time to start living! Meet the weekend.
Let the sad melody of the week turn into a rock song of the weekend! Allow yourself to do whatever you want, but don't forget that on Monday you should be at work.
It's weekend. Remember to count your rainbows instead of your thunder storms
Have a lovely weekend. Let go of our anxieties and worries so that you can be free.
If this weekend manages to go as planned, then it will not include any actual plans.
Good weather all the week, but come the weekend the weather stinks. When the weather is too hot they complain, too cold they complain, and when it's just right, they're watching TV. – Rita Rudner
When you're young, you should live out every weekend. Even if you look like a scarecrow, you just gotta go! – Jonathan Brandis
The rhythm of the weekend, with its birth, its planned gaieties, and its announced end, followed the rhythm of life and was a substitute for it. – F. Scott Fitzgerald
I have not been this excited about weekend since last weekend.
The weekend is a blessing. Thank you Lord, for getting us through this week.
Youth is like a long weekend on a Friday night, while middle age is like a long weekend on a Monday afternoon.
The weekends are too short for sleep! – Bryant A. Loney
Wishing you a weekend full of love and laughter!
The only Happy end that I know: it's the weekend!
Weekends don't count unless you spend them doing something completely pointless. – Bill Watterson
The only reason why we ask other people how their weekend was is so we can tell them about our own weekend. – Chuck Palahniuk
There is no quote out there that can fully describe how great the weekend is.
I work mostly during the week, and on the weekend I get to hang out with friends, so it balances out pretty well. – Jimmy Bennett
It's weekend. Do something that your future self will thank you for.
Wherever you go on this beautiful, relaxing weekend, make sure that you always remember to bring the happiness of your own sunshine with you, so that you may spread that happiness to all of the people that you encounter.
The weekend is here and you deserve a medal for getting through this week
Weekends are days to refuel your soul and to be grateful for the blessings that you have.
Start this wonderful weekend with a clean heart. Start it without any doubt, tears, fears, or worry.
Better days are coming. They are called Saturday and Sunday.
Happiness is not having to set the alarm for the next morning. Happy weekend!
I'm learning the power of going away for the weekend and keeping myself company. – Zoe Saldana
Happy weekend! If you happen to be reading this, I hope that something really good happens to you today.
Two days is simply not enough for the weekend. There is just simply too much fun to be had.
May your weekend be full of adventure and cheer, and may the beginning of the next week be far away.
This weekend, remember that your smile alone can save a sad soul or heal a broken spirit. Share your kindness with others and remember to have a blessed weekend.
Forget about all the bad things that happened to you this week and just have a great weekend.
I am always happy to meet my friend, and my friend is my weekend. – Debasish Mridha
There is nothing wrong with being lazy sometimes, especially when it happens to be weekend.
It is known that the first five days after the weekend are always the hardest to get through.
Forget the things that made you sad and remember those that made you glad. Happy Weekend!
Weekends are a bit like rainbows; they look good from a distance but disappear when you get up close to them. – John Shirley
Give a man a fish and he has food for a day; teach him how to fish and you can get rid of him for the entire weekend. – Zenna Scha
Spend some time this weekend on home improvement; improve your attitude toward your family. – Bo Bennett
Happiness comes when you believe in what you are doing, know what you are doing, and love what you are doing. Have a happy weekend!
Beware boyfriends! It is going to be another weekend. Either you keep your wallet stuffed with currencies; or if empty say your girlfriend you lost your wallet. Have a fun filled weekend!
All the five days in a week being formal is like living with a donkey, enjoying the two days over the weekend is like living with a hippy hoppy monkey.
Dear weekend, can you last a little while longer? I'm not quite ready to go back to work just yet.
It's a fine line between Saturday night and Sunday morning. – Jimmy Buffett
There aren't enough days in the weekend. – Rod Schmidt
No weekend, all weakened. – Toba Beta
Be in the habit of getting up bright and early on the weekends. Why waste such precious time in bed? – Marilyn Vos Savant
When you're single, your weekend days are wide-open vistas that extend in every direction; in a relationship, they're like the sky over Manhattan: punctured, hemmed in, compressed. – Adelle Waldman
I have to be alone very often. I'd be quite happy if I spent from Saturday night until Monday morning alone in my apartment. That's how I refuel. – Audrey Hepburn
Good weather all the week, but come the weekend the weather stinks. When the weather is too hot they complain, too cold they complain, and when it's just right, they're watching TV. – Rita Rudner
Weekends are sacred for me. They're the perfect time to relax and spend time with family and friends. – Marcus Samuelsson
Pretend like it's the weekend… We could pretend it all the time. – Jack Johnson
Unless it's an emergency, don't bother me after 6:00 p.m. and on weekends. – Merv Griffin
It's weekend. Remember to count your rainbows instead of your thunder storms.
Today is Saturday, which means that the only decision that you should be making is whether to have a bottle or a glass of wine.
Sometimes the weekend gets hijacked by work, but as my mother would say, this is the right problem. – Julian Fellowes
On this weekend, remember that what you do today can have the potential to improve all of your tomorrows.
It's weekend, which means that I am feeling 100% motivated to do absolutely nothing. I would say that so far, I have accomplished that.
Today is Saturday. Yesterday you said, tomorrow. Do it today. Do not make any excuses for yourself.
Life can move pretty fast if you don't stop to enjoy it. Have a great weekend and don't forget to stop and smell the roses.
A wild and crazy weekend involves sitting on the front porch, smoking a cigar, reading a book. – Robert M. Gates
Have a simple weekend. Be yourself in a world that asks you to just be like everyone else, and you will already have accomplished a lot with your day.
You know what I want to do? Wake up one weekend and not have to go anywhere and do nothing. – Derek Jeter
Today is Saturday, which means that today I will be multi-slacking instead of multi-tasking.
Time spent for temporary happiness like movie or outing or weekend on a beach is all synthetic; with shelf life of a day or two. Work for your bigger dreams that should last for whole life. Then movie and beach would seem more interesting, realising that you have done something. ― 
It's not that we spend five days looking forward to just two. It's that most people do what they enjoy most on those two days. Imagine living a life where everyday are your Saturdays and Sundays. Make everyday your weekend. Make everyday a play-day… ― 
The weekend quotes are huge because of how we see the weekend and every activity we partake in during those two days. If you want to extend the fun of the weekend that is contained in this compilation of weekend quotes, do share these with your friends and family.