Lift Your Mood With These Good Vibes Quotes.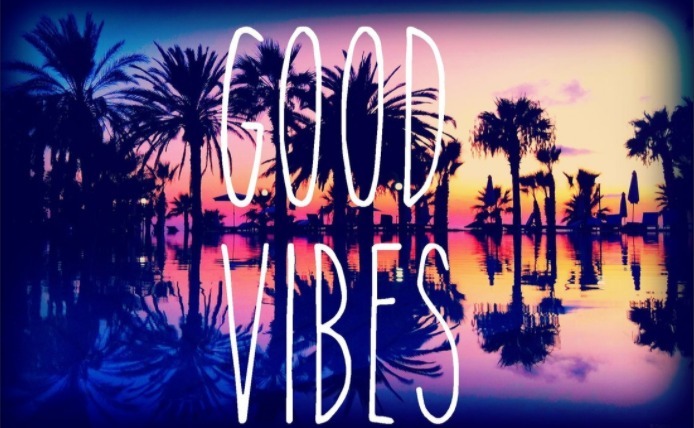 We all want to feel and be happy at all times or at least majority of the time; we want to have and feel good vibes around us and from people around us. But unfortunately, there are times good vibes on their own are hard to come by, at such times what we need to spice up our mood and and lift our spirits are good vibes quotes. Quotes that are exudes good vibes and good feelings to us.
The following quotes compiled in this article are some of the best good vibes quotes you could ever find on the internet, they are quotes that give you positive vibes and feelings. They were written by people who live their lives daily on positivity and good vibes only. If you want to fill your life with such good vibes and daily does of positive vibes, then you might want to read the following positive vibes quotes below.
Positive Vibes Quotes
When you arise in the morning, think of what a precious privilege it is to be alive to breathe, to think, to enjoy, to love. – Marcus Aurelius
Life is a gift. And it offers us the privilege, opportunity, and responsibility to give something back by becoming more. – Tony Robbins
Whatever is good for your soul, do that.
Fill yourself with good feelings until you are overflowing.
A good friend knows all your best stories. A best friend has lived them with you.
Never stop being a good person because of bad people.
We are all a little broken. But the last time I checked, broken crayons still color the same.
Don't compare yourself with anyone else. Because you have potential inside you that no one else on the planet has.
Wherever you go, no matter what the weather, always bring your own sunshine. – Anthony J. Dangelo
Every sunset is an opportunity to reset. ― Richie Norton
I promise you that the same stuff galaxies are made of, you are. The same energy that swings planets around stars makes electrons dance in your heart. It is in you, outside you, you are it. It is beautiful. Trust in this. And you your life will be grand. ― Kamal Ravikant
When a flower doesn't bloom, you fix the environment in which it grows, not the flower. ― Alexander Den Heijer
A man cannot be too careful in the choice of his enemies. – Oscar Wilde
When people hurt you over and over, think of them like sandpaper. They may scratch and hurt you a bit but in the end. You end up polished and they end up useless. – Citrus Carts
You came to RADIATE the fullness of who you are. ― Abraham Hicks
Out of the void and vastness of the cosmos, life emerges; audacious, improbable. You and I are here. No other miracle is needed. ― John Mark Green
Love the life you live. Live the life you love. — Bob Marley
Virtually nothing is impossible in this world if you just put your mind to it and maintain a positive attitude. – Lou Holtz
You just can't beat the person who never gives up. — Babe Ruth
You don't have a right to the cards you believe you should have been dealt. You have an obligation to play the hell out of the ones you're holding. – Cheryl Strayed
Because in the end, you won't remember the time you spent working in the office or mowing your lawn. Climb that goddamn mountain. ― Jack Kerouac
You are damaged and broken and unhinged. But so are shooting stars and comets. ― Nikita Gill
Ups and downs. Victories and defeats. Sadness and happiness. Despite all of that, stay positive. That's the best kind of life.
My only goal right now is to be genuinely happy.
Happiness starts with you. Not with your relationship, not with your job, not with your money, but with you.
Look for something good in every day. Even if in some days you need to have to look a little bit harder.

One small positive thought in the morning can change your whole day.

Be such a beautiful soul that people crave your good vibes.
Spread the good vibes wherever you go. Let no one ever come to you without leaving happier.
The most courageous decision you can make each day is to be in a good mood.
Vibe high and the magic around you will unfold.
Cleanse your mind of all bad vibes and let the good vibes flow in.
When you focus on the good, the good gets better.
A good day starts with a positive attitude and a great cup of coffee.
If you have good thoughts, they will shine out of your face like sunbeams and you will always look lovely.
Train your mind to see the good in everything. Positivity is a choice. The happiness of your life depends on the quality of your thoughts.
The miracle of your existence calls for celebration every day.
Inhale good vibes and exhale the bad ones. Worrying will not take the troubles away. It will just take away the peace of today.
At any rate, that is happiness; to be dissolved into something complete and great.
Always radiate positive vibes. Rise up and face the day full of enthusiasm and life.
If you feel happy, smile with all your heart. And If you're feeling down, smile with all your might.
An attitude of positive expectation is the mark of the superior personality.
I say looking on the bright side of life never killed anybody.
Always think happy thoughts and put a smile in your face so that good opportunities can easily find you.
Don't worry about a thing because everything is going to be alright.
Be the kind of energy that no matter where you will go, you will always add value to the lives of people around you.
Vibrate good energy into others soul, making them never forget the beauty of yours.
Don't think too much, just do what makes you happy.
Be the energy you want to attract.
Trust the vibes you get, energy doesn't lie.
I love people who are open-minded. People who just vibe with whatever you talk about. You can talk about anything and everything.
Life is too short to always be serious at all times. So, if you cannot laugh at yourself, then give me a call. I will laugh at you!
You should cleanse your mind of all the bad vibes. Let the good vibes flow instead.
When life puts you into tough situations, do not say why me? Instead, you should say, try me?
Walk away from anything that gives you bad vibes. There is no need to explain or make sense of it. It's your life. Do what makes you happy.
You attract the energy that you give off. Spread good vibes. Think positively. Enjoy life.
Speak as if it has already happened, and it will.
She is at a place in her life where peace is her priority and negativity cannot exist.
If life is so blue, then select another color from the rainbow.
Look at those people surrounding you. Others inspire you, while some will merely perspire you. So be with people that will build good and positive energy in you.
You've always had the power, my dear. You just had to learn it for yourself.
Your mind is very powerful. If you fill it with positive thoughts, you will soon start seeing positive changes in it.
Go where your energy is reciprocated, celebrated, and appreciated.
Learn to love yourself. It is important that you stay positive all the times because beauty comes from the inside.
Be happy with what you have. Be excited about what you want.
A positive attitude can lead to a chain reaction of positive thoughts, outcomes and events.
There is nothing better than a positive and good-natured person. Be one of them. Surround yourself with these people and you will feel the change.
I do not have time to hate people who hated me. I am just too busy loving the ones who really love me.
Always surround yourself with positive souls and good vibes will just come naturally. Remember that your surroundings will influence your experience so make it a positive one.
Choose kindness and laugh often.
Today is a perfect day to start living your dreams.
You can choose to be either bitter or better.
Don't stress. Do your best. Forget the rest.
The biggest compliment is when someone tells me my soul is beautiful.
Stay strong despite of the bad things that happened. Make them wonder how you are still smiling despite of everything.
I aspire to be a giver. A giver of love, a giver of good vibes and a giver of strength.
Be fanatically positive and militantly optimistic. If something is not to your liking, change your liking. ― Rick Steves
What I am suggesting is that each of us turn from the negativism that permeates our society and look for the remarkable good among those with whom we associate, that we speak of one another's virtues more than we speak of one another's faults, that optimism replace pessimism, that our faith exceed our fears. ― Gordon B. Hinckley
Success will be within your reach only when you start reaching out for it. ― Stephen Richards
Cry, I tell you/ And the reflections found in your pool of tears/ Will remind you of the lessons of today and yesterday/ To guide you through the fears of tomorrow. ― Suzy Kassem
When times are dim say as I say "Where there's a will there's a way!" – Tupac Shakur
Today I turn my eyes to see only that for which I am thankful. Today I allow myself to absorb the kindness and love within the Universe. Today I am thankful and grateful and it shows. ― Jodi Livon
The most beautiful people I've known are those who have known trials, have known struggles, have known loss, and have found their way out of the depths. – Elisabeth Kübler-Ross
What are the thoughts you have about the above collection of good vibes and positive vibes quotes? They are obviously the kind of quotes you want to read whenever you want to feel better and in good mood. Share these quotes with friends whom you know enjoy having people of good and positive vibes around them.