Motivational Running Quotes.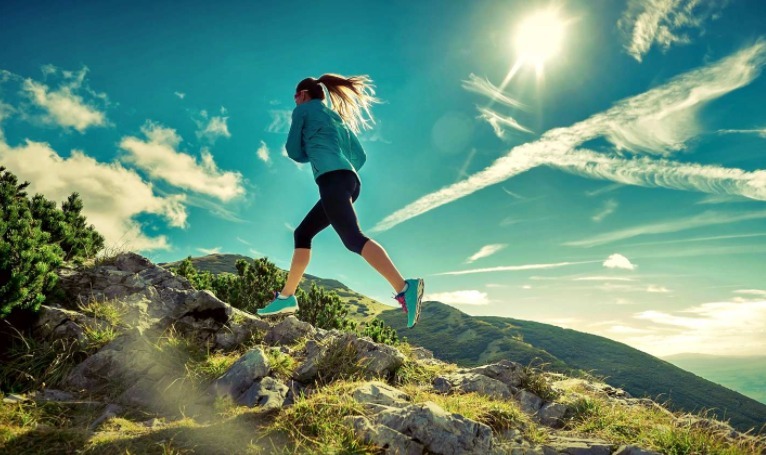 While running is a perfectly normal activity humans and other animals take part in, there are people whom it means more to; there are people whom running means more than running to them. The running quotes in this article highlights some of the importance of running and the crucial role it plays in our lives.
Even though running is obviously a physical activity, it has a huge impact in our mental state and mental health, psychological health and even helps with motivation and inspiration, just as your exercising your body by running you are automatically exercising your mind and freeing it off some negative thoughts and energy. To appreciate the huge non-physical advantages running provides to use you have to carefully read through this amazing compilation of the best inspirational running quotes that we have curated for you.
Whenever you feel demotivated, one of the things to try out is putting on your running shoes and give it a try. These are the opinions of some awesome people who discovered how running improved their lives and their state of mind,  positioning them at a place they can only think of victory and success. The running quotes you find in this article are their worked and we have their names written alongside their respective quotes.
Inspirational Running Quotes
If you can't fly then run, if you can't run then walk, if you can't walk then crawl, but whatever you do you have to keep moving forward. – Martin Luther King, Jr.
It's not so much that I began to run, but that I continued. – Hal Higdon
A runner must run with dreams in his heart.-  Emil Zatopek
Of all the sports I've tried, some have come and gone but running has always been there for me. It's the simplest of things to do: shove your trainers on and just go. –  Mel C
Remember, the feeling you get from a good run is far better than the feeling you get from sitting around wishing you were running. – Sarah Condor
Running is great for your body. It will increase your energy levels and helps you to clear your mind. – Heidi Klum
There are times when I feel lazy and just want to stay in bed all day, but I know that working out is the best way to get those endorphins going, which will make me feel better emotionally and physically. – Heather Locklear
You would run much slower if you were dragging something behind you, like a knapsack or a sheriff. – Lemony Snicket
Run when you can, walk if you have to, crawl if you must, just never give up.- Dean Karnazes
The miracle isn't that I finished. The miracle is that I had the courage to start. – John Bingham
If we had a drug that did what exercise did, it would be the biggest revolution ever and would be promoted all over the world. And all you have to do is go out for a run. – Greg Wells
Nothing lifts me out of a bad mood better than a hard workout on my treadmill. It never fails. To us, exercise is nothing short of a miracle. – Cher
The marathon can humble you. – Bill Rodgers
Running is kind of like a coffee. The first time you drink it you might not like it. It's bitter and leaves a bad taste in your mouth but you kind of like the way it makes you feel. However, after a few times, it starts to taste better and then all of a sudden you're hooked and it's the new best part of waking up. – Amy Hastings
Exercise is so amazing from the inside out. I feel so alive and have so much energy. – Vanessa Hudgens
One run can change your day; many runs can change your life. – Anonymous
Running allows me to set my mind free. Nothing seems impossible. Nothing unattainable. – Kara Goucher
I'll be happy if running and I can grow old together. – Haruki Murakami
I am 100 percent convinced that working out is part of what makes me so happy. – Jennifer Lopez
Whoever established the high road and how high it should be should be fired. – Sandra Bullock
If you run, you are a runner. It doesn't matter how fast or how far. It doesn't matter if today is your first day or if you've been running for twenty years. There is no test to pass, no license to earn, no membership card to get. You just run. – John Bingham
Running has always been a relief and a sanctuary – something that makes me feel good, both physically and mentally. For me it's not so much about the health benefits. Those are great, but I believe that the best thing about running is the joy it brings to life. – Kara Goucher
Running is the movement of a free human being. It doesn't demand any special premises or machines. You only need to put on your shoes and get going. Let the blood circulate. Then everything becomes much clearer. – Markus Torgeby
Strength does not come from physical capacity. It comes from an indomitable will. – Mahatma Gandhi
There are many challenges to long-distance running, but one of the greatest is the question of where to put one's house keys. – Gabrielle Zevin
Ask yourself: "Can I give more?" The answer is usually: "Yes. – Paul Tergat
Life equals running and when we stop running maybe that's how we'll know life is finally finished. – Patrick Ness
Most people run a race to see who is fastest. I run a race to see who has the most guts. – Steve Prefontaine
Running is the greatest metaphor for life, because you get out of it what you put into it. – Oprah Winfrey
Run like hell and get the agony over with. – Clarence DeMar
I don't run to add days to my life, I run to add life to my days. – Ronald Rook
Running is my private time, my therapy, my religion. – Gail W. Kislevitz
Long distance running is 90 percent mental and the other half is physical. – Rich Davis
Your body is made to move so move it. – Toni Sorenson
When you run, the road belongs to you. – Toni Sorenson
Running is therapy anyone can afford. – Toni Sorenson
Go fast enough to get there, but slow enough to see. – Jimmy Buffett
I run every day. It's like medicine. – Jennifer Carpenter
As we run, we become. – Amby Burfoot
I've got 99 problems, so I went on a run to ignore them all. Anonymous
I always run without music. Being disconnected is what I'm addicted to more than anything. There aren't many places where you can be without your phone and computer. I've started to crave and enjoy that time alone. – Christy Turlington
Running is nothing more than a series of arguments between the part of your brain that wants to stop and the part that wants to keep going. – Anonymous
The trouble with jogging is that, by the time you realize you're not in shape for it, it's too far to walk back. – Franklin P. Jones
Jogging is very beneficial. It's good for your legs and your feet. It's also very good for the ground. It makes it feel needed. – Charles M. Schultz
My doctor told me that jogging could add years to my life. I think he was right. I feel ten years older already. – Milton Berle
Running is in my blood – the adrenaline flows before the races, the love/hate of butterflies in your stomach. – Marcus O'Sullivan
Step one to running a marathon: You run. There is no step two. – Barney Stinson
If the sun comes up, I have a chance. – Venus Williams
It was being a runner that mattered, not how fast or how far I could run. The joy was in the act of running and in the journey, not in the destination. – John Bingham
Just running the streets was absolutely everything and more than I possibly expected. – Jennie Finch
If you want to become the best runner you can be, start now. Don't spend the rest of your life wondering if you can do it. – Priscialla Welch
No marathon gets easier later. The halfway point only marks the end of the beginning. – Joe Henderson
Runners just do it – they run for the finish line even if someone else has reached it first. – Anonymous
I started running to escape the memories that drinking couldn't cover up. – Dean Karnazes
There is magic in misery. Just ask any runner. – Dean Karnazes
Running is the classical road to self-consciousness, self-awareness, and self-reliance. – Noel Carroll
Something happens to me when I run. People think it's crazy when I say it. All of my ideas come in when I run. That is my time where it's just me, where I get to create. – Theo Rossi
If you don't have answers to your problems after a four-hour run, you ain't getting them. – Christopher McDougall
After all, if you run far enough, no one can catch you. – V.E. Schwab
Good things come slow – especially in distance running. – Bill Dellinger
Run! Life's too short to walk. Unless you don't know where you're running to, then move very slowly. – Neil A. Hogan
Run often. Run long. But never outrun your joy of running. – Julie Isphording
Different people have different reasons for racing, but one is simply the incentive to get out and run, increase mileage and feel good. – Hal Higdon
Running is something you can do and be alone in your thoughts, and I like that. – Carole Radziwill
Exercise is like meditation for me. And I'm giving myself that time . . . I cannot live without it now. When you have such a good workout, it clears everything up mentally, physically, and you just have a better day. – Minka Kelly
Someone who is busier than you is running right now. – Nike
There's a great empowerment that I get from running, not only from the endorphins . . . Being a runner, to me, has made being depressed impossible. If ever I'm going through something emotional and just go outside for a run, you can rest assured that I'll come back with clarity and empowerment. – Alanis Morissette
For me, working out is a form of therapy, its cathartic for me, it's a good stress reliever. I know that when I go to the gym I am taking care of myself and I know I'll feel so much better afterwards. – Bob Harper
If you don't think you were born to run you're not only denying history. You're denying who you are. – Christopher McDougall
Running is the quickest endorphin hit I can get. I like to do it really early in the morning, before everyone gets up. It gives me a clear head and sort of resets the clock. It's like, 'OK, I got that out of the way. Now I can deal with people.' – Julie Bowen
The pain of running relieves the pain of living. – Jacqueline Simon Gunn
I really love going places without a map. When I went running in Paris, I headed for a monument or a statue that I could see off in the distance. To get back where I started, I simply used the GPS on my phone. – Brooklyn Decker
The obsession with running is really an obsession with the potential for more and more life. – George Sheehan
Running is alone time that lets my brain unspool the tangles that build up over days – Bob Hneisen
I go running when I have to. When the ice cream truck is doing sixty. – Wendy Liebman
If you've never had a bad day running, you're probably doing something wrong. If you've never had a good day running, you're definitely doing something wrong. – Mark Remy
I am a running joke. Waking up at 4:30 am and jogging anywhere from 11 to 23 miles has been nothing short of horrifying. – Ryan Reynolds
We can't all be heroes because someone has to sit on the curb and clap as they go by. – Will Rogers
Every marathon I ran, I knew I had a faster one in me. – Dick Beardsley
Once you're beat mentally, you might as well not even go to the starting line. – Todd Williams
That's all the motivational running quotes that are specially written to inspire you into becoming the best version of yourself. If you want to change your mind set, the first thing you have to start with is your body, start by running. By running you free up your mind and make room for positive thoughts and much more. Share these inspiring running quotes with your friends and family who might be in need of it.