Hell Quotes You Probably Never Knew Of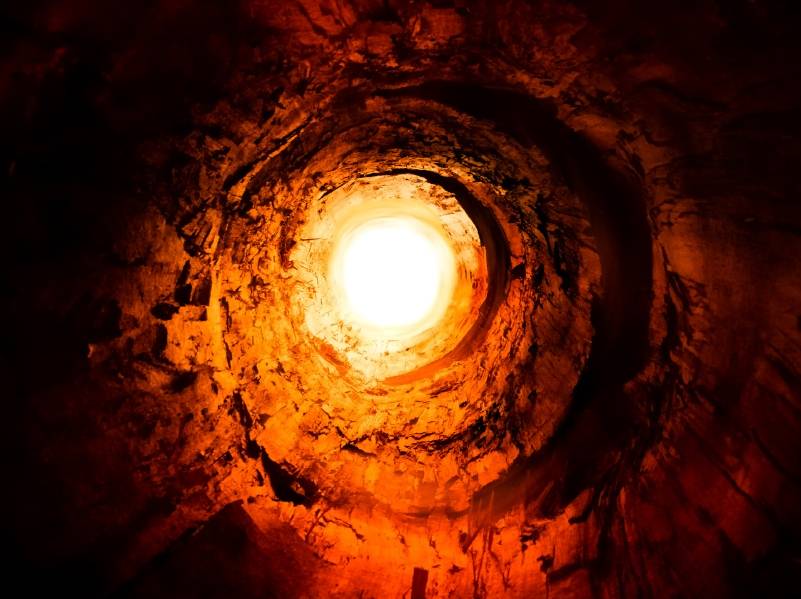 Hell is considered by many religions to be a place for eternal suffering for the devil and very bad people, basically hell is a place known for sufferings but we humans use it as euphemism for conditions and places we consider to bad and terrible for living and to be experienced, these quotes about hell is essentially doing that. These hell quotes use hell as a way of describing extreme suffering and why we must not be part of that hell.
While many of these quotes from cell centered on the use of Hell as euphemism for a place of extreme suffering, a handful of them also refer to actual religious or Biblical use or meaning of hell. There are lots of things to learn from these quotes and of those things is the central agreement by everyone of the writer agrees on; hell is not a place for any human being. Be it the religious use of hell or figurative use of hell, both denote extreme suffering and we must ensure we and our loved ones are not exposed to any of that as these hellish quotes all recommend.
Quotes From Hell
We may have occasion in our lifetime to once again rise up in defense of our freedom, and pay the wages of war. But we ought not  we will not   travel down that hellish path blindly. — Barack Obama
There is one very serious defect to my mind in Christ's moral character, and that is that He believed in hell. I do not myself feel that any person who is really profoundly humane can believe in everlasting punishment. — Bertrand Russell
The road to hell is paved with works-in-progress. — Philip Roth
Breakups seldom do. It will unfold slowly, one little tell-tale symptom after another like some awful, hellish flower. — Anonymous
If Hell were possible, it would be the shortest cut to the highest heaven. For verily God loveth. — Sri Aurobindo
The slogan of Hell: Eat or be eaten. The slogan of Heaven: Eat and be eaten. — W.H. Auden
If you are on the right path you will find that invisible hands are helping. — Joseph Campbell
I have my own matches and sulphur, and I'll make my own hell. — Rudyard Kipling
It is easier for the imagination to compose a hell with pain than a paradise with pleasure. — Antoine Rivarol
I translated Dante's "Inferno" because I discovered some of my ancestors in it! — Antoine Rivarol
The devil can and does enter only Hell, the angel can and does enter only Paradise. The man, wherever he wants! — Nikos Kazantzakis
Hell is truth seen too late. — Thomas Hobbes
Hell is full of good meanings and wishes. But heaven is fill of good works. — Dr. Thomas Fuller
Hell is whatever Heaven is not. — Dr. Thomas Fuller
After all, is not a real Hell better than a manufactured Heaven? — E. M. Forster
For where did Dante get the material for his Hell, if not from this actual world of ours? — Arthur Schopenhauer
For the world is Hell, and men are on the one hand the tormented souls and on the other the devils in it. — Arthur Schopenhauer
Better to reign in hell, than serve in heaven. — John Milton
Heav'nly love shall outdo Hellish hate — John Milton
O shame to men! Devil with devil damned Firm concord holds, men only disagree Of creatures rational, though under hope Of heavenly grace: and God proclaiming peace, Yet live in hatred, enmity, and strife Among themselves, and levy cruel wars, Wasting the earth, each other to destroy: As if (which might induce us to accord) Man had not hellish foes enough besides, That day and night for his destruction wait. — John Milton
The definition of hell is a place where nothing connects with nothing. — T. S. Eliot
There is something more terrible than a hell of suffering: a hell of boredom. — Victor Hugo
Life in Lubbock, Texas taught me two things: One is that God loves you and you're going to burn in hell. The other is that sex is the most awful, filthy thing on earth, and you should save it for someone you love. — Butch Hancock
If it's heaven for climate, it's hell for company. — James Barrie
It will take a great deal of magnanimity from God to forgive men for inventing hell. — Maurice Chapelan
To judge from the notions expounded by theologians, one must conclude that God created most men simply with a view to crowding hell. — Marquis de Sade
Dante once said that the hottest places in hell are reserved for those who in a period of moral crisis maintain their neutrality. — John Kennedy
I have come to lead you to the other shore; into eternal darkness; into fire and into ice. — Dante
Abandon all hope, you who enter here. – Dantee
Hell is other people. — Jean-Paul Sartre
I would prefer an intelligent hell to a stupid paradise. — Blaise Pascal
The gates of hell are open night and day. Smooth the descent, and easy is the way. But to return, and view the cheerful skies, In this the task and mighty labor lies. — Virgil
If I cannot sway the heavens, I will raise hell. – Virgil
A perpetual holiday is a good working definition of hell. — George Bernard Shaw
Go to Heaven for the climate, Hell for the company. — Mark Twain
The road to hell is paved with good intentions. — St Bernard de Clairvaux
If you're going through hell, keep going. — Winston Churchill
From the day that God put man in the presence of woman, paradise became hell. — Henri Jeanson
Socialism only works in two places: Heaven where they don't need it and hell where they already have it. — Ronald Reagan
I myself am hell; nobody's here. — Robert Lowell
You think You're frightening me with Your hell, don't You? You think Your hell is worse than mine. — Dorothy Parker
Being the chief minister of a regional government is just a pastime compared with the hellish job of being prime minister of two different communities brought together. — Elio Di Rupo
And if there is still one hellish, truly accursed thing in our time, it is our artistic dallying with forms, instead of being like victims burnt at the stake, signaling through the flames. — Antonin Artaud
People don't dream all their lives of escaping the hellish countries they live in and pay their life savings to underworld types for the privilege of being locked up in a freezing, filthy, stinking container ship and hauled like cargo for weeks until they finally arrive in Moscow or Beijing or Baghdad or Kabul. People risk their lives to come here—to New York. The greatest city in the world, where dreams become reality. — Sean Hannity
Writing is a hellish task, best snuck up on, whacked on the head, robbed and left for dead. — Ann-Marie MacDonald
A hound it was, an enormous coal-black hound, but not such a hound as mortal eyes have ever seen. Fire burst from its open mouth, its eyes glowed with a smouldering glare, its muzzle and hackles and dewlap were outlined in flickering flame. Never in the delirious dream of a disordered brain could anything more savage, more appalling, more hellish be conceived than that dark form and savage face which broke upon us out of the wall of fog. — Arthur Conan Doyle
Without a doubt, the next few minutes would be the most hellishly exciting in my life. Grinding pain and killer fatigue waited just beyond the word, "Partez." But I tried to ignore those prespects, and concentrate on the priceless feelings that also awaited. I thought about the perfect strokes we would take, and about the merciless surge of power we would unleash in the last 500 meters. — Brad Alan Lewis
Every time you make a choice you are turning the central part of you, the part of you that chooses, into something a little different from what it was before. And taking your life as a whole, with all your innumerable choices, all your life long you are slowly turning this central thing either into a heavenly creature or into a hellish creature… — C. S. Lewis
Therefore, what really matters is those little marks or twists on the central, inside part of the soul which are going to turn it, in the long run, into a heavenly or a hellish creature. — C. S. Lewis
It is more nearly right to say that, when certain restraints are passed, the hellishness of war drives us to break with every remaining restraint in order to win. Here is the ultimate tyranny: those who resist aggression are forced to imitate, and perhaps even to exceed, the brutality of the aggressor. — Michael Walzer
Anyone who has attempted to create knows the hellishness of it, which consists in the final inescapability from it. Knows that anything, however deadly humdrum to drug the senses, is preferable to it. Knows the gigantic effort to get started on the boundless, unwieldy, shapeless material; the forest of hesitations; of what to keep and what to throw out; the running-out terror and reluctance in one of finishing. — Caitlin Thomas
That was hellish. That stayed with me for quite a long time. — Robert Carlyle
Dying is the most hellishly boresome experience in the world! Particularly when it entails dying of 'natural causes'. — W. Somerset Maugham
Richelle Mead delivers sexy action and tongue-in-cheek hellish humor-if damnation is this fun, sign me up! — Lilith Saintcrow
Tobacco, divine, rare, superexcellent tobacco, which goes far beyond all the panaceas, potable gold, and philosophers stones, a sovereign remedy to all diseases but as it is commonly abused by most men, which take it as tinkers do ale, 'Tis a plague, a mischief, a violent purger of goods, lands, health; hellish, devilish and damned tobacco, the ruin and overthrow of body and soul. — Robert A. Burton
I don't hate anyone. I simply block them out using hellish visions in a blind white rage. But if I see them out I'm pleasant. — Dane Cook
When a person is going through hell, and she encounters someone who went through hellish hell and survived, then she can say, 'Mine is not so bad as all that. She came through, and so can I.' — Maya Angelou
There were certain chapters when I stopped writing, saw the domestic situation I was in and thought, I don't want to face this world, let's get back to the hellish one I'm imagining. — Alasdair Gray
Work to survive, survive by consuming, survive to consume: the hellish cycle is complete. — Raoul Vaneigem
I've never done acid, finding it hard to go willingly to a place that could be frightening, hellish, and totally beyond my control. A place much like high school. — Libba Bray
When you have a good romance, find ways to make their lives miserable and hellish…Do you think 'Titanic' would have been so popular if they had both lived? Not a prayer. — Orson Scott Card
War was a hellish, horrible hideous thing – too horrible and hideous to happen in the twentieth century between civilised nations. — Lucy Maud Montgomery
Looking back, I question whether I really loved Nate, or just the security of our relationship. I wonder if my feelings for him didn't have a lot to do with hating my job. From the bar exam through that first hellish year as an associate, Nate was my escape. And sometimes that can feel an awful lot like love. — Emily Giffin
Wonderful are the hellish experiences, Orphic, delicate Dionysos of the Underworld. — D. H. Lawrence
Our nature is to worship, but unless that element is directed towards God it becomes "a senseless impersonal force, carrying us away in its momentum. It becomes a search for ecstasy – no matter what kind achieved through destruction…The worshipful integraton of nature in the person is inverted in a hellish imprisonment of the individual in nature." — Olivier Clement
Denmark is sadly a hellish place if you happen to be a pig, but the brioche and fruits that tower on the table before me have me hastily attaching a feedbag. — Steven Morrissey
No matter what you think of the topic of hell, you definitely do not want yourself or your loved one to experience it literally or figuratively, that is the more reason to share these collection of quotations about hell with them.